Choosing the correct fencing for your garden can be difficult, especially as we approach the harsher winter months, but composite fencing may be the answer to all your concerns! In this article we will help you decide if this fencing is right for you, discussing the pros and cons.
What is composite fencing?
Most garden fences are made from soft or hardwoods, and whilst composite fencing is a newer product it is set to change the game with fencing choices. Composite fencing offers many unique features and is even made from recycled materials to help you reduce your carbon footprint, which is more important today than ever.
Composite fencing is made from a mixture of plastic and wood, these elements together give the fencing a natural wood look whilst the plastic makes maintenance much easier and gives your fencing a much longer lifespan, up to 20 years. Meaning you save money and the planet! What's not to love?
Is composite fencing right for you?
Every garden has different needs, but everyone can agree that a 20-year guarantee on fencing is unbeatable.
Not convinced yet? here are just some of the top attributes of composite fencing:
The combination of wood and plastic makes the fencing extremely strong, it can withstand high impact
More weatherproof than standalone wood products, meaning no moss build up from rainfall
Environmentally friendly manufactured from 75% recycled materials
Stronger than concrete posts
Simple to install at home without professional help
However, there may be some factors that make you decide against composite fencing:
It can be more expensive than soft or hardwood (However treatment for wood fencing can end up costing more!)
There is less customisation than wood fencing – but it can look much more modern!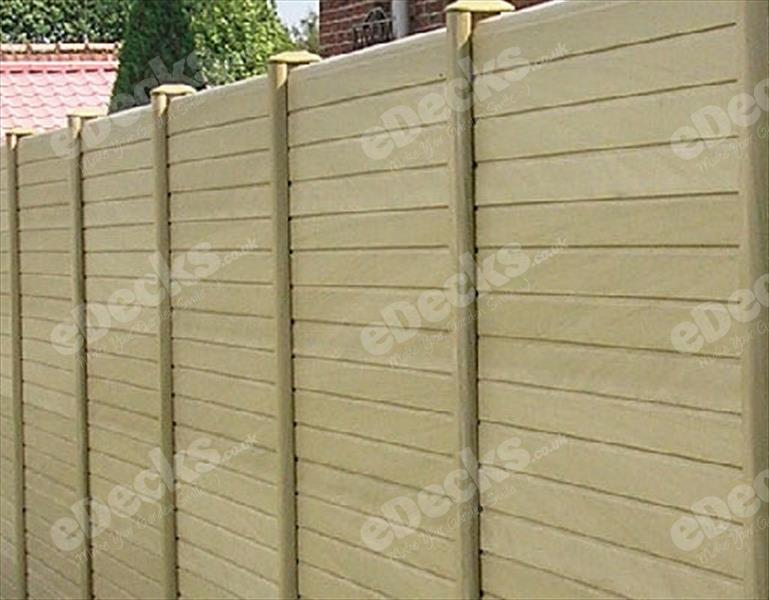 Looking to buy composite fencing?
The price of composite panels may be a little daunting, but purchasing directly from suppliers online is an easier way to find the best deals, and you can have them delivered directly to your door!
Here at eDecks, we have unbeatable customer service, we offer guidance on installation and specialist advice before a purchase is even made. Why not check out our prices for composite fencing today? We run unbeatable offers all year round and we are here to answer any questions you may have!
At eDecks you can not only expect a good deal but also:
Superfast FREE delivery on orders over £150*
Handy FREE installation guides (and even instructional videos!)
Incredible prices on composite decking and PVC decking (and frequent big discounts!)
*Free delivery applies to most of the UK, but some areas may incur a charge, unfortunately – please check the eDecks website for more details.
**Prices all correct at time of writing