With Winter just around the corner, it is important to ensure your roofing is safe and secure. One of our most popular roofing products are Bitumen sheets, which are a great long-lasting roofing option and can be modified to suit your needs.
Modified bitumen is a type of asphalt product which can be fitted on to the roof in a variety of ways, in both hot and cold temperatures. They are seen as the modern-day alternative to the built-up roof and today we will be taking a look at advantages of Bitumen Roofing Sheets.
As mentioned, there are several advantages to using Bitumen Roofing Sheets on your home or building and unlike more recent types of roofing, it already has a proven track record of being reliable and sturdy and Bitumen Roofing Sheets are known to last 20 years or longer.
Durability – Bitumen Roofing Sheets have a high-tensile strength, making them unlikely to develop cracks which may often appear in other flat and membrane roofs. Bitumen Roofing Sheets are also a good protectant against elements such as wind, fire and hail and are therefore unlikely to be damaged in the event of a storm and such like.
With all things in life, there are of course some drawbacks to Bitumen Roofing Sheets, however it is all about finding the product that best suits your needs. Black Bitumen Roofing Sheets do tend to absorb rather than reflect heat, and even though the roofing sheets themselves may not be heat or UV Ray damaged, if proper insulation is not used with it, the heat absorption can lead to overheating the building of which it is protecting.
The cost of Bitumen Roofing Sheets can be quite costly, however eDecks keep very competitive prices and will help you to conclude the amount of sheets and accessories you will need. You may also need to purchase granules which help protect the roof from the sun, and without including them as part of the installation process, the roof can become damaged, or again the building may overheat.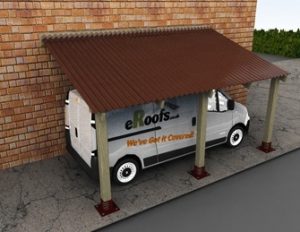 Bitumen Roofing Sheets are one of the most durable and secure roofing options available when applied and installed correctly. They may be quite costly to begin with, but will far outlast a competitive product and will keep your building safe and protected.
If you feel you need more of an insight into Bitumen Roofing Sheets, or would like to learn more about installation techniques, then please find our installation guides online here for plenty of free advice – it is often easier than you first think!
eDecks offers some of the best deals on Bitumen Roofing Sheets around, including all of the installation supplies and tools you may need. Not only do we provide plenty of unbeatable deals but also:
Super-fast FREE delivery on orders over £100*
48 Hour Delivery on many products
Handy FREE installation guides and instructional videos
*Free delivery applies to most of the UK, but some areas may incur a charge. Please check the eDecks website for more details.