Here at eDecks, we have our sister site eRoofs, which showcases a wide variety of roofing materials, suitable for all projects, and today we are going to discuss Vistalux Corrugated PVC Roofing sheets. Vistalux PVC is a versatile, corrugated rooflight sheet suitable for car ports, canopies and gazebos. They are economic and lightweight and are super easy to cut, drill and install with standard DIY tools.
Vistalux sheets are available in a choice of corrugated profiles in both clear or translucent tint options as well as being UV resistant for durability. As mentioned, Vistalux are lightweight roofing sheets, and on average, the lightweight sheets are 0.8mm, Heavy Duty 1.1mm and Superweight 1.3mm, which does vary by profile.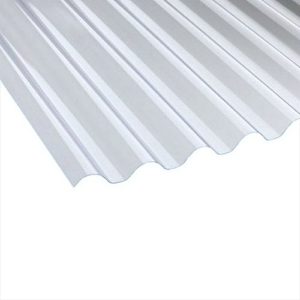 How to Install Vistalux Roofing Sheets
For a car port or lean to installation you will need:

Vistalux PVC Sheet
Vistalux PVC Wall Flashing
Vistalux PE Eaves Fillers
Vistalux Super Fixings
Flashing Tape
A minimum slope of 5 degrees is essential in any structure to ensure water run-off: 10 degrees or more is better.

To Cut the Sheets:

Arrange the sheets loosely on the roof and mark hole positions and any necessary saw cuts with a felt tip pen.
Sheets should overhang the roof by 60mm to allow a rainfall to run-off into the gutter and should be wide enough to cover the barge board at the side.
If cutting is required use an angle grinder with a metal slitting blade or fine tooth saw at a shallow angle with pressure. Support the sheet to minimise vibrations.
A good tip when cutting, is to sandwich the sheet between other sheets with the part to be removed protruding.
If a sheet has to be cut to a finished width, make the cut in the slope of the corrugated sheet.
Avoid drilling and cutting sheets in very cold weather as warm sheets will be less prone to damage.

Drilling the Sheets:

Pre-drill the sheets before fixing. Holes for fixings must be drilled larger than the fixing to allow for expansion – around 10mm for a 3mm sheet.
Drill the sheets singly with a masonry bit, using a low speed drill and light pressure. Then support the sheet securely under each hole position when drilling.
There should be at least 5 fixings per support across the width of the sheet.

Flashing:

Vistalux wall flashing to match the sheet corrugation is installed at the top of the slope. The Wall Flashing is then fixed firmly into position with Butyl wall flashing tape which then forms a watertight seal between the sheet and the wall.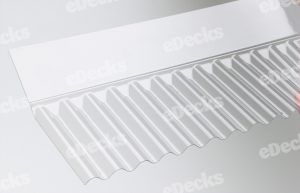 Fixing:

Start fixing the sheets – Eaves Fillers are used under the sheets at all support positions to prevent roof 'chatter' and to support the sheets when fixed.

Use screws, caps and washers to secure the sheet – the screw is sufficiently tight when the washer under its head can just be rotated with finger and thumb.

Joining the Sheets:

If the sheets need to be joined end to end, ensure an overlap of at least 150mm for a ten degree slope or 300mm for a five degree slope.
Use a strip of Butyl Sealing Tape to prevent dust and dirt getting between the sheets.
It is important to remember:
Vistalux can be used in temperature conditions from -20˚C to +60˚C
Any paints or preservatives applied to the supports must be thoroughly dry prior to fixing the sheet to avoid any damage
We recommend that any surfaces of support immediately under the sheet is light in colour or white
False ceilings, insulation or any other opaque material must not be placed under the fixed Vistalux sheets, as the temperature in the gap between these and the sheet could rise to over 60˚C, which could then cause distortion or discolouration
To clean the sheets, use warm soapy water and a soft sponge or cloth
Before use, ensure you store the sheets indoors on a flat dry surface in cool surroundings
eDecks offers some of the best deals on Vistalux Roofing Sheets around, including all of the installation supplies and tools you may need. Not only do we provide plenty of unbeatable deals but also:
Handy FREE installation guides.
Super-fast FREE delivery on orders over £100*
*Free delivery applies to most of the UK, but some areas may incur a charge. Please check the eDecks website for more details.