Although, here at eDecks we know a lot about guttering, we realise that for many people it can be completely foreign to them and so throughout this blog post we will be explaining terms which some people may not be familiar with and shall be offering professional advice and tips. Today we will be talking fascias and soffits, which are fairly simple products to understand.
The fascia is the long board running the length of the lower edge of the roof and its purpose is to cover and protect the roof rafters from the elements and your guttering will be directly attached to it. Fascias are commonly made from PVC which makes them much more durable and easier to clean, although there are some fascias which are made from wood, but we do not recommend these as they will eventually rot which would mean your gutter is no longer safely secured and a new installation would be necessary.
Underneath the fascia, you will find the soffit, which is again usually made from PVC so that gutter cleaning can be kept as quick and simple as possible. Soffits are designed to ensure that nothing can get inside your roof such as birds, insects, water and other debris. Regular maintenance of fascias and soffits is recommended to keep them in tip top condition and to spare the expense of having to have a whole new gutter installation fitted.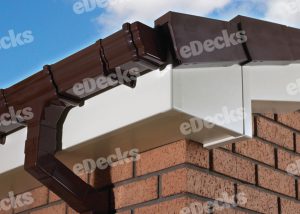 Leaves and other debris can get deposited in the gutter and prevent the efficient flow of rainwater. If you regularly maintain your gutters and downpipes this will help to reduce the risk of rainwater blockage and increase the longevity of them. If gutters and downpipes are left blocked then it could end up causing severe damage in the long run. If water is not removed, it can break the gutter and even weaken the house, façade and foundations.
To unblock a gutter safely, you will need gloves, a ladder, a bucket, a trowel and a water jet. There are also some alternative tools you could use to complete this kind of job, including cylindrical brushes which scrape the insides of the pipes, a pair of pliers with a handle that can be attached to a telescopic wand and brushes and scrapers which can be attached to a handle and used from the ground. Simply follow these instructions to safely unblock your guttering;
Remove the leaves from the gutter
Stand the ladder up against the brickwork making sure it is safe and steady
Clear the gutter of the residue using the trowel to unstick any leaves or mud and then place them into the bucket
Unblocking the downpipe is possibly the hardest part of the cleaning process. You can try to run pressure water through the pipe but this can potentially aggravate the blockage. When using the pressure hose ensure you unravel the hose allowing you enough room for movement and reach
The easiest way to clean your drains can be to dismantle the downpipe and clean it by hand. Take off the bends which is where the blockages normally are and clean them with your tools
Another option would be to use a plumber's snake which is essentially an endless screw with a flexible tube allowing you to drill through the blockage.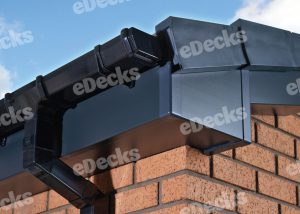 It is advisable that whilst cleaning your guttering, to also check the general state of the gutter because this may alert you to any underlying problems such as leaky or cracked gutters, broken fascia brackets, faulty connecting joints etc. You will then need to tighten the screws or complete repairs in case of cracks, holes or lack of stability.
eDecks offers some of the best deals on Guttering around, including all of the installation supplies and tools you may need. Not only do we provide plenty of unbeatable deals but also:
Super-fast FREE delivery on orders over £100*
48 Hour Delivery on many products
Handy FREE installation guides and instructional videos
*Free delivery applies to most of the UK, but some areas may incur a charge. Please check the eDecks website for more details.