Choosing the right decking for your garden can be intimidating, with so much choice why wouldn't you be hesitant? Here at eDecks, we have a wide range of fantastic decking to ensure you receive the highest quality products. A particular favourite of ours is composite decking, not only is it extremely versatile and weatherproof but it's also great for the environment thanks to the fact it can be recycled.
RealGroove™ Composite Decking
We worked alongside our manufacturer to invest in development to bring you an exciting and improved product. The RealGroove™ Bark Effect Composite Decking requires little upkeep no need for yearly treatments this product will look great year after year. This product boasts many unique properties and at 22mm thick it is durable and features its brand new fully grooved bark effect indentations. Traditionally Composite decking has 'scratched surfaces' giving the bark effect finish. But, with its all-new, actually scored indentations, RealGroove™ has a long-lasting anti-slip surface, which will out-last other similar products on the market. Composite decking is a mixture of recycled wood and plastic, combined in such a way that this product will even outlast hardwood decks! So if you're looking for an investment that lasts, look no further.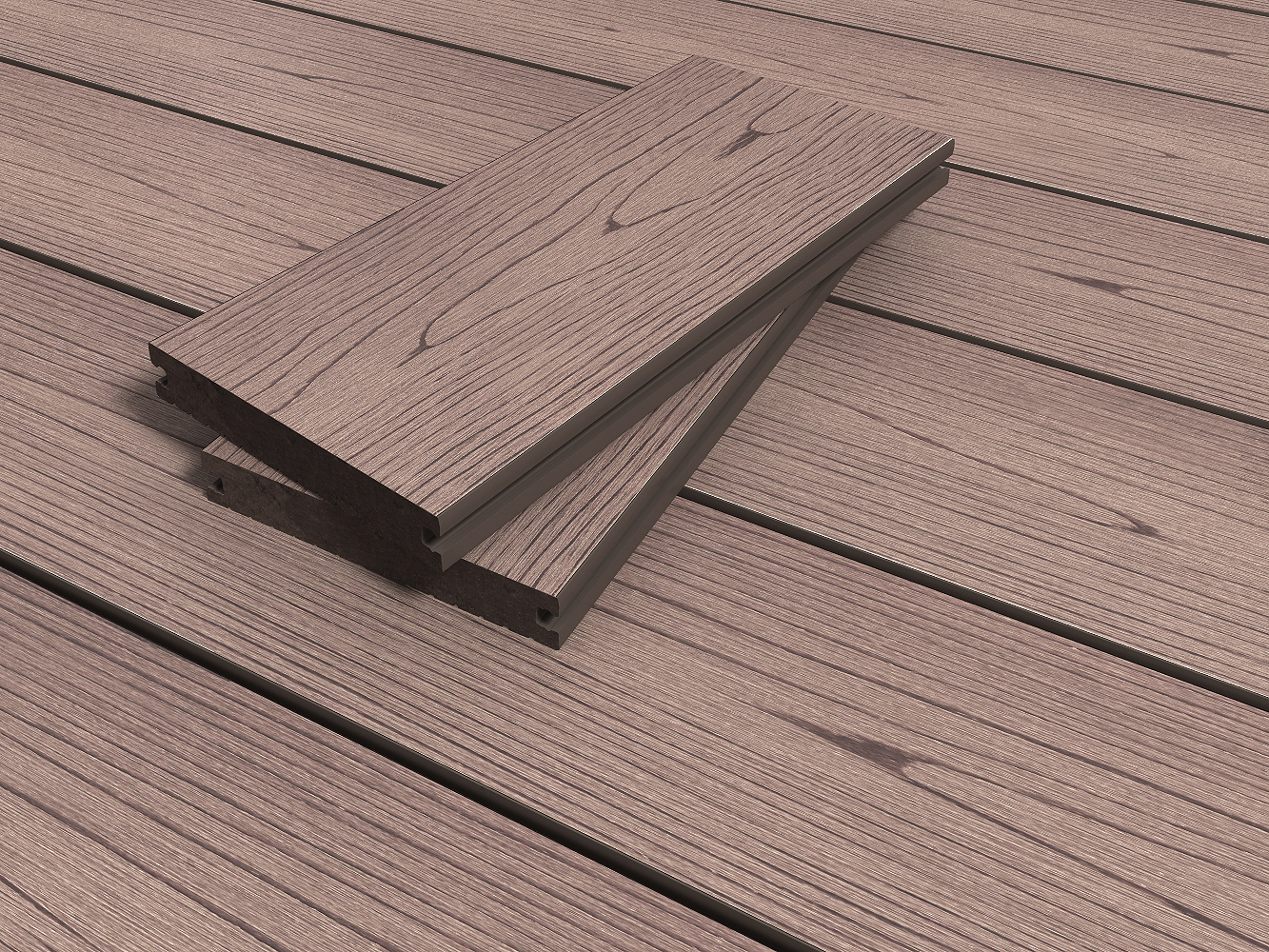 Castle Top Composite Decking Boards
These boards are manufactured only for eDecks, this Solid Castle Top board is an exclusive you won't find anywhere else. They are made from recycled timber and plastics the composite decking combines their unique properties and is perfect for use outdoor around the garden as well as hotels, pubs and leisure centres. Looking for a safe way to deck your garden? Composite deck board boasts excellent anti-slip properties that will keep performing year on year.
Evergrain Dual Sided Composite Decking
Evergrain Dual Sided decking is unlike conventional composite decking, each side offering a unique colour. The enhanced grain on either side of this board offers a truly versatile rich decorative finish however you decide to use it, the dual board allowing you to get creative with your outdoor space. This deck board has been co-extruded to give a deep wood-grain pattern. Not only is this pleasing to the eye but gives this board incredible anti-slip properties, even when wet. Incredibly, Evergrain composite decking will not rot, fade, split or splinter.
Looking for the best deals on decking?
Check out our amazing deals here on the eDecks website!
We also offer plenty of support and expert advice for most projects – and any products we sell online. Contact eDecks here for personalised advice for your project today.
At eDecks you can not only expect a good deal but also:
Superfast FREE delivery on orders over £150*
48 hour delivery on many products
Handy FREE installation guides (and even instructional videos!)
*Free delivery applies to most of the UK, but some areas may incur a charge, unfortunately – please check the eDecks website for more details.