If you decide that a decking paint isn't something you are wanting to finish off your deck look with, then it may be worth considering either a semi-transparent timber stain or a clear sealer to protect your decking. Today we shall talk you through what a timber stain can do for your deck so you can decide whether it is something you would like to use on your project.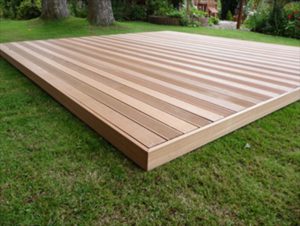 Timber stain retains the natural beauty of the wood, as it lets the wood grain show through. Generally speaking, a stain is less slippery than a paint as it gives a flat surface that protects the timber without creating a really slippery surface. When using a timber stain, you will find it much easier to use than a paint, and it is often more forgiving if you miss a spot here and there without it being obvious. As with decking paint, stains are also available in a wide range of colours, but we do recommend you testing a small area of your wood first, as the colour of the wood can have a different effect with a stain.
Stain does tend to have a shorter life span than paint, depending on the quality and amount of coats of the stain, but this is great if you soon get bored of the same colour. You will also find that a stain is more rustic looking, and for the most part, timber stain results in a more natural looking finish. So you can see the grain through the stain, but if you are wanting to conceal it, then a darker colour stain or a paint would be your best option.
Both paint and stain can give you a decking area that lasts years longer than it would if you left it untreated and these materials make the wood less water absorbent, resulting in the wood to stay dry on the inside. They also include compounds which are designed to protect the wood from harmful UV rays, which means much less sun damage to your timber.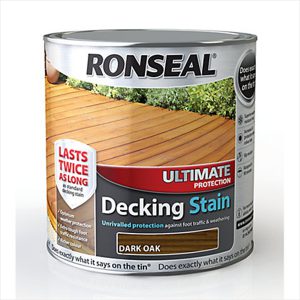 If you are considering leaving your wood untreated, it is worth bearing in mind that eventually the elements will wreak havoc on even the toughest of woods. With the exception of some extremely hard tropical hardwoods, you should almost always apply some sort of finish to your decking if you want it to last outside. Skipping a timber stain or paint can lead to the wood cracking, splitting, warping and even rotting before it should do, requiring lots of time and money to make repairs or replacements.
Stain or Sealer Application Tips:
When brushing the gaps between boards with a timber stain, be careful not to get much on the top surface, because each coat of stain will darken the stain colour.
Use a stain with less pigment to let more of the natural wood grain show through. Always test the stain before applying.
If you have a mix of old and new decking boards, use a stain with more pigment to make them look uniform.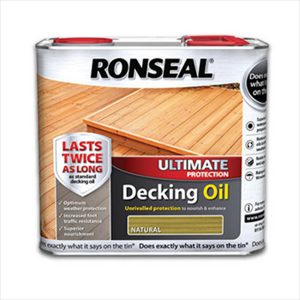 In conclusion, a little bit of effort to maintain your decking can be well worth it as wood is a natural, renewable resource and some of the faster growing species are very environmentally friendly compared to synthetic materials. Using a timber stain allows your decking to not only look beautifully finished, but which will last for many years to come.
eDecks offers some of the best deals on Timber Stains around, including all of the installation supplies and tools you may need. Not only do we provide plenty of unbeatable deals but also:
Super-fast FREE delivery on orders over £100*
48 Hour Delivery on many products
Handy FREE installation guides and instructional videos
*Free delivery applies to most of the UK, but some areas may incur a charge. Please check the eDecks website for more details.