Polycarbonate is a high performance material which is perfectly suited for roofing. Polycarbonate roofing sheets have been designed for both domestic and commercial use and there are glazing systems which support polycarbonate sheets, making for a strong, yet light, shatterproof system which has UV protection built in and transmits up to 90% of available light. It is also quicker and easier to fit than traditional glazing and offers a longer lasting finish than corrugated sheets.
When choosing polycarbonate roofing sheets, it is important to make careful measurements and get the correct size because the sheets need to fit between your roof joists, however, our helpful eRoofs Sales Team can assist to ensure you get the measurements you require. You can either opt for polycarbonate sheets suitable for roofing and cut them, or buy them at the sizes you need, already cut. Additionally, polycarbonate sheets can be cut to any shape or size making it suitable for all kinds of roofs, including gable end roofs, lean-to roofs, Edwardian and Georgian roofs as well as canopies.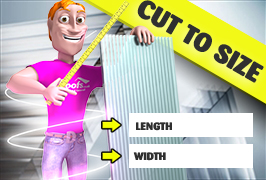 There is also a range of thicknesses when choosing your polycarbonate sheets suiting different purposes. We recommend the following guidelines;
Clear polycarbonate roofing sheets are a versatile option, not only because they are extremely durable, but they also have a modern and sophisticated appearance. They also offer UV blockage, even if they let light in, and because of this, they won't discolour and will keep their smart appearance for many years to come. It is also worth mentioning that clear polycarbonate roofing sheets are lightweight, making them super easy to work with.
If you are thinking of choosing polycarbonate roofing sheets for your property, here are some helpful hints and tips we think you will find useful.
Polycarbonate roofing sheets are only UV protected on one side, therefore prior to installation, ensure you are clear are which side has the UV protection.
If you are re-using polycarbonate roofing sheets, and are purchasing more, make sure you check the exact colour to avoid any mismatches.
Sealing is very rarely required when installing this kind of roof sheet, so if you are using a sealant, check with the manufacturer to ensure the one you are using is compatible with the sheets.
When cutting the sheets, avoid using high-speed cut-off wheels as these can melt the sheets, and instead use sharp scissors or a power saw fitted with fine-toothed blades.
It is perfectly normal to see condensation during cooler months, but this can be rectified by modifying your ventilation system.
If you find debris and dirt on your sheets over time, the best way to remove this is by using soapy water and a soft brush. Avoid using any abrasive tools or chemicals as they may damage the sheets.
We also offer Polycarbonate accessory essentials to go with your Roofing Sheets, such as Glazing Bars, which are available in white or brown. These Glazing Bars are suitable for Conservatory Roofs, Carports, Gazebos and more, and are super easy to fit, securing a roof sheet on each side.
For roof edges with a sheet on only one side, the gap on the bar's outer edge must be fitted with a Side Flashing, which again comes in brown or white. Side Flashings act as a drip into the gutter and give a lovely, sealed finish to your roofing sheets.
We also sell Corotherm Anti-Dust Breather Tape, which is a self-adhesive tape for sealing and protecting polycarbonate roof sheets to prevent build-up of moisture while keeping dirt, debris and insects out.
To protect the Breather Tape, you can then use End Closures which allow ventilation of the sheets. End Closures are safe, easy to fit, are UV-resistant and offer good weathering properties.
Another options are the Polycarbonate Super Fixing Buttons, which allows you to secure polycarbonate sheets to timber rafters to reduce the risk of the sheets becoming dislodged in windy conditions. They also come with a rubber compression gasket to stop water ingress and allow a natural expansion and contraction of the sheets.
eRoofs offers some of the best deals on Polycarbonate Roofing Sheets around, including all of the installation supplies and tools you may need. Not only do we provide plenty of unbeatable deals but also:
Handy FREE installation guides and instructional videos
Standard Delivery for all Polycarbonate is £25.19 no matter how large your order