A squeaky, bouncy or uneven decking can be very annoying, and irritating, not only that it can actually cause a safety issue.
Don't be tripped up by an uneven deck – use your noggin and incorporate strengthen timbers when purchasing your decking boards or decking kit, available from £9.99 it's a relatively small amount to pay and will offer piece of mind that your new decking is the strongest it can possibly be.
Reinforce your decking framework. Ideally at point of installation, although it's easy enough to upgrade an existing deck.
Installing strengthening timbers will eliminate that annoying squeak and you will be left with a sturdy, level deck that will look great and stand the test of time with no annoying sounds or bouncing.
What are strengthening braces?
Also know as Noggins', these short pieces of timber sit horizontally in-between the rafters, the amount you will need depends on the size of the decking, for very small decks only a few will be needed, for larger areas space them 400mm apart and offset them slightly so it's easier to screw them in from the back of the joist.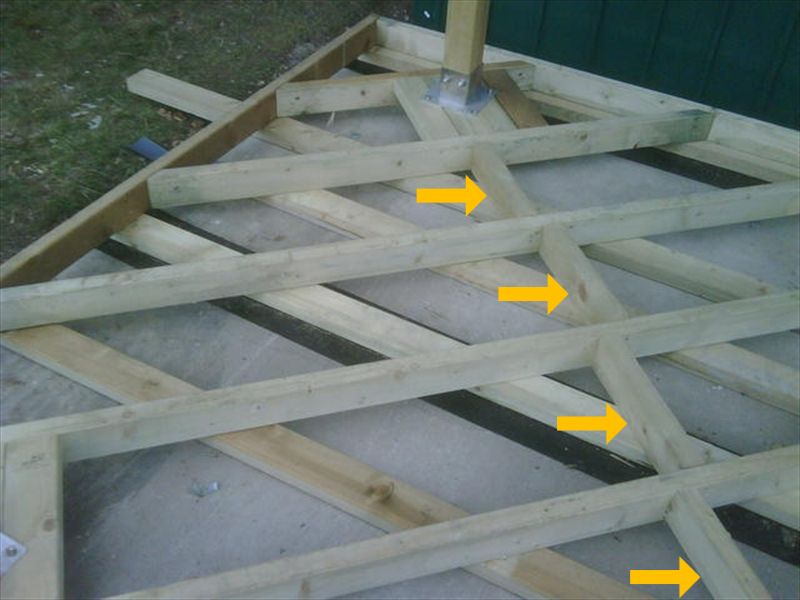 Offset the noggins so it's easier to screw them in from the back of the joist.
Here at eDecks we pre-cut our decking joist support braces to fit perfectly between joists at right angles to add extra strength your deck.
We also pressure treat our decking joist supports to supercharge them with protection from the elements.
Thanks to pressure treating your decking support brace is protected from rot, mould and insect damage to give it a longer lifespan compared to standard decking joist supports.
At eDecks we'd rather spend our time in the garden than shopping for the garden. That's why we've included everything you need to construct a sturdy joist strengthening brace in our kits.
Why shop around when we'll supply you with everything you need to strengthen your deck at eDecks.
---
We also offer plenty of support and expert advice for most garden projects – and definitely any products we sell online. Contact eDecks here for personalised advice for your garden makeover project today.
At eDecks you can not only expect a good deal but also:
Super fast FREE delivery on orders over £150*
Handy FREE installation guides (and even instructional videos!)
Incredible prices on composite decking (and frequent big discounts!)
*Free delivery applies to most of the UK, but some areas may incur a charge, unfortunately – please check the eDecks website for more details.
**Prices all correct at time of writing