Decking is an excellent way to add a more aesthetically pleasing look to your garden; patio or low level decking can be the perfect solution to hide unattractive areas or to simply raise an area to be level with a conservatory or to add a patio-style area to your garden. The main two types available here at eDecks are Hardwood and Softwood Decking, and we have included some benefits of both, as well as a comparison so that you can discover which would work best for you.
Generally speaking, timber is split into two main types; hardwood and softwood. Hardwood is sourced from slow growing trees, which are often referred to as broadleaved trees and Softwood comes from faster growing, evergreen or coniferous trees. Apart from taking a longer time to be produced, by nature, hardwood is more difficult to process than softwood, which is one of the reasons why softwood is lower in price than hardwood decking.
Durability is super important when choosing your ideal timber, and because decking is laid outside, you need to opt for the variety that will stand up to outdoor conditions all year round. If you are looking for more of a quick fix, short term solution, it may be that a budget option works just fine for you, however, if you are wanting more of a long-term investment, then investing in a better quality of wood will pay dividends.
As mentioned, hardwood decking is made from a number of different broadleaved trees, such as oak, ash and beech, and these trees are often grown in temperate climates where they tend to be deciduous, or tropical climates where they tend to be evergreen trees. The wood of these trees is slower in its growth, making it a harder, more durable timber.
Softwood decking is made from coniferous, evergreen trees such as pine and spruce, and about 80% of the world's timber is softwood. To use softwood decking, it must be suitably pressure treated with preservatives, to protect it from fungal and insect decay in addition to deterioration from the environment. Due to availability, cost effectiveness and ease of installation, around 90% of decks are made from softwood decking. Hardwood decking tends to be more expensive and requires more care, but is available in a range of attractive colours.

In a nutshell, softwood decking is;
Cheapest type of decking
Value for money
Has wood fibres which are tightly packed together and this structure gives the boards the strength and durability needed to last
Readily available
Pressure treated boards
Can be stained a different colour
Cut from coniferous trees which are quicker growing and therefore more economical
Come in a variety of designs

Whereas, hardwood decking;
Are FSC certified boards
Certain types have a unique invisible fastener system
Is the warmest, most natural material
Is like an indoor floor, outdoors
Tropical hardwoods are very durable
Needs a greater expertise in carpentry skills than softwood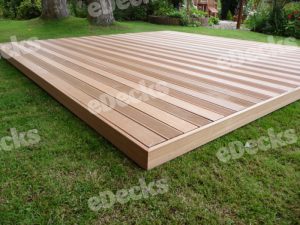 eDecks offers some of the best deals on Hardwood and Softwood decking around, including all of the installation supplies and tools you may need. Our Hardwood starts at £6.02p per metre with Softwood starting at £2.52p per metre. Not only do we provide plenty of unbeatable deals but also:
Dusty hardwood balau from £4.51p metre and Softwood decking starting at £0.81p per metre!
Call for bulk deals and discount.
Super-fast FREE delivery on orders over £100*
*Free delivery applies to most of the UK, but some areas may incur a charge. Please check the eDecks website for more details.