Hardwood decking can be costly, and you will have invested both time and money to deck a part of your garden to create your perfect haven. However, it is also important to maintain and clean your hardwood decking so you can enjoy it for many years to come, getting the most from your investment. As well as looking good, a clean deck is also much safer too, especially in the cold, wet winter months, as keeping your decking clean will prevent it from becoming slippery over time.
Balau decking is one of the most popular hardwood decking boards sold on the market to date. We currently offer yellow balau decking, which is very light in colour, kind of like a milky chocolate shade which fits in well with most gardens and colour schemes. Balau is a type 2 decking which means that it has a life span of between 20-30 years depending on the treatment of the decking.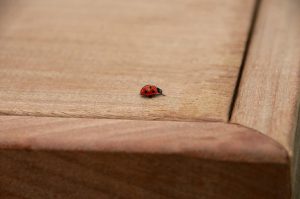 We recommend oiling your decking boards as soon as they are laid, and then once every 12 months going forward. Ronseal Ultimate Decking Oil is what we recommend you use, as it is a highly adhesive product which makes it more durable to protect the boards, but most other oil-based treatments will help to protect your decking boards as well as keeping them looking their best.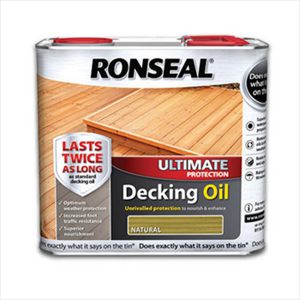 Step by Step Guide on Caring for Hardwood Decking;
Clear the decked area. Ensure your decking surface is free of all obstacles so you can concentrate on cleaning rather than moving furniture around. Avoid dragging furniture along the boards.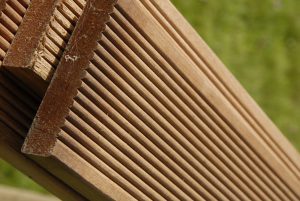 Always test your cleaning method on a small, unnoticeable area before applying it across the entire deck.
Brush the deck thoroughly twice a year. Use a stiff broom to give the timber a thorough brush twice a year, followed by a jet wash using a pressure washer if at all possible.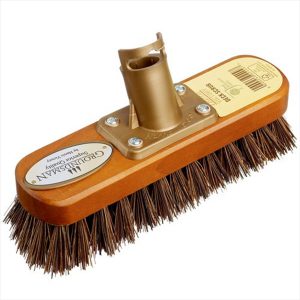 To clean your decked surface on a budget, use warm water and soda crystals. Spray warm water over the decking and sprinkle with soda crystals; leave for a few hours and once dry brush using a stiff broom.
Clean using dedicated cleaners. There are a number of chemical cleaners available which will clean and rejuvenate your timber. Try and find a chemical specifically designed for your type of timber. Normally these chemicals are highly concentrated, so depending on the size of the area, you won't have to replenish this very often at all.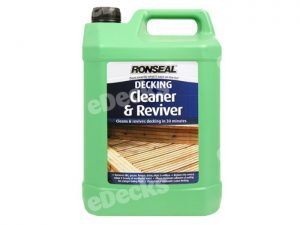 Another option when taking care of your hardwood decking is to upgrade to Anti-Slip Decking Strips, which will benefit both yourself, your family and your decking. The Anti-Slip process utilises a specially formulated and highly durable combination of resin and aggregate which is professionally inserted into the machined grooves of the timber decking. These are supplied to you, ready to lay with unbeatable anti-slip properties, giving you an excellent and safe finish without the hard work.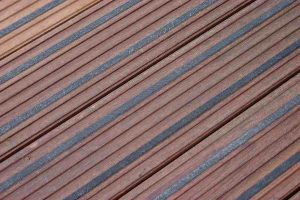 When it comes to laying your boards, there are two options – Invisible eFix Hardwood Balau Plugs and SPAX. Balau Plugs are wooden plugs which are used when laying your decking boards to give a stunning and blemish free finish. They are perfect for hiding fixings or screw heads on all types of Balau Decking.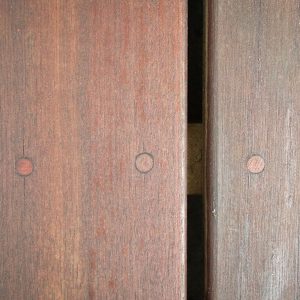 SPAX are concealed connector sticks which ensures a flawless visual impression which is simple and reliable to assemble. The high mechanical strength of SPAX gives the decking board high stability and crushing of the structure is practically impossible due to the large contact surface of the SPAX sticks.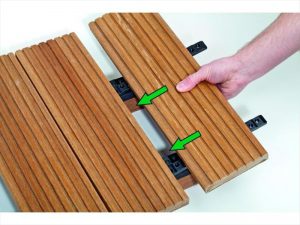 eDecks offers some of the best deals on Hardwood Decking around, including all of the installation supplies and tools you may need. Not only do we provide plenty of unbeatable deals but also:
Super-fast FREE delivery on orders over £100*
Handy FREE installation guides.
*Free delivery applies to most of the UK, but some areas may incur a charge. Please check the eDecks website for more details.