A majority of fences are made from hard or soft woods, although recently, there has been a surge in the popularity of composite fence panels due to its contemporary style, which is a relatively new building material that is made from a mixture of plastic and real wood. Composite fence panels are often made from recycled materials, making it an eco-friendly option. The wood composition gives it a beautifully authentic look, while the plastic allows the fencing to last much longer than wholly organic materials. Using composite fencing means your fence will last far longer than the original wooden versions, resulting in fewer replacements and therefore fewer trees are cut down to replace them.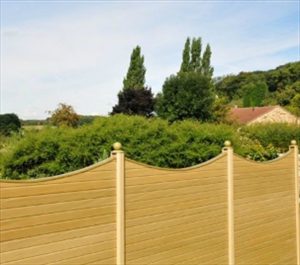 There are many attributes to composite fence panels;
Deflects noise pollution – allowing you to enjoy the tranquillity of your garden without outside noise pollution seeping in.
Heavy duty – They have reinforced vertical slats ensuring they are gale force proof, resulting in no more cracked or blown out panels.
Maintenance free – No more painting and staining, as composite panels don't fade like traditional fencing.
Superior durability – When compared to wood, composite fence panels don't rot or splinter which is often the case in traditional wooden fencing.
Design – Our composite fence panels are designed to fit within your existing structure. No fixings are required as the composite fence panel fits within traditional concrete posts.
Cost effective – No need to buy replacement wooden panels after bad winters, as composite fence panels are excellent at withstanding harsh conditions.
Easy to assemble – Our composite fencing panels come ready made, so all you need to do is slot them between the original concrete posts.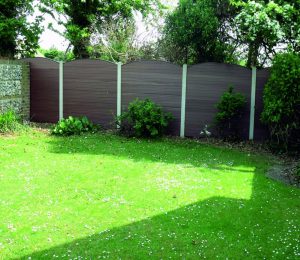 Our composite fence panels come in a range of sizes and are suitable for fitting in-between existing concrete posts. They are dual sided meaning you could even split the cost with your neighbours so that you can both enjoy the aesthetic qualities of the fencing. We also offer a variety of colours to complement our composite decking collection, including Natural, Walnut and Graphite.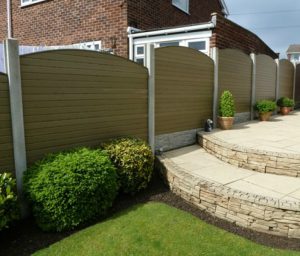 Composite fencing can be slightly more expensive than traditional pure wood fencing, but you can save yourself money by purchasing your fencing online, without the costs of showrooms and stores throughout the country. Online retailers can offer huge discounts on exactly the same products you may find at local hardware stores, so having a quick browse online can be a very cost effective solution. You will then still have the same guarantee as you would in person, with the added benefit that your goods will be delivered straight to your door. If you're looking for extra guidance on installation, eDecks offers an incredible support service which you can use prior to any purchase, as well as offering professional guides to follow as you build.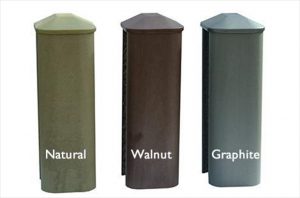 To go with your composite fence panels, we also offer a range of accessories, including Composite Fence Posts, Composite Fence Post Caps, available in Flat, Acorn or Globe styles, Composite Fence Post Bolt Downs, to make the installation of a small fence quick and easy, meaning that concrete drives are no longer a problem, and lastly Supaspikes, which have fins that bite into the soft ground giving a stable base for smaller fences.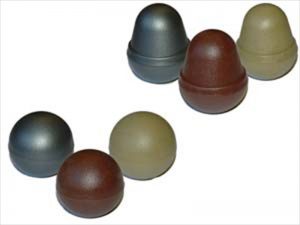 eDecks offers some of the best deals on maintenance-free Composite Fence Panels around, including all of the installation supplies and tools you may need. Composite fence panels are tough and hard-wearing, give the appearance of a wooden finish and are manufactured here in the UK. Not only do we provide plenty of unbeatable deals but also:
Super-fast FREE delivery on orders over £100*
Handy FREE installation guides.
*Free delivery applies to most of the UK, but some areas may incur a charge. Please check the eDecks website for more details.
20 Year Guarantee against rotting! *Provided all products have been fitted and maintained to the manufacturer's recommend