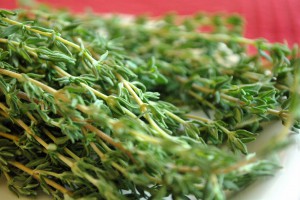 Nothing can enhance your Christmas dinner quite like fresh herbs! Don't let a little thing like winter stop you from growing your own aromatic herb garden over the festive season. Simply bring your plants indoors to enjoy fantastic flavour-enhancing herbs all year round.
It's so easy to grow your own herb garden that even inexperienced gardeners will be able to sprinkle their freshly grown thyme over their roast potatoes on Christmas Day. Growing herbs indoors is also a great way to get young children interested in gardening! Your kids will love knowing that they've made Christmas dinner really special this year.
Just follow our simple guide to growing garden herbs indoors and you'll be enjoying fresh, fragrant herbs in no time.
Pick the Right Pot
Ideally, you want to use pots that are large enough to give your herbs space to grow and have ample drainage. Avoid any mess by placing a tray underneath your pots to catch the runoff water from your plant pots.
Pretty, colourful plant pots are ideal for creating a decorative indoors herb garden. If your children are growing their own herbs, buy plain plant pots which they customise with their own designs.
Find a Sunny Spot
Giving your plants enough sunlight to grow during the winter can be difficult. The best spot for your plant is near to an east, south or west facing window so it can soak up as much sunlight as possible. Don't be tempted to place your plants too close to a radiator; you might think you're keeping your plant cosy but the excess heat could cause your plant to wilt before it sees Christmas.
Don't limit your indoor herb garden to the kitchen. Try putting calming lavender in the bedroom or fresh anise hyssop in the hall to give guests a colourful welcome into your home!
Keep Your Soil Loose
Give your herbs the best start in life by planting them in loose soil so their roots have the freedom to grow. Fill the pot to the brim with soil but resist the urge to compact it. Keeping the soil loose will also let water filter down to the deeper roots so they don't need to rise up to the surface. Once you've placed your plant in its pot, moderately water it to settle the loose soil in.
Avoid a Drought
Working out how often you should water your plants can be tricky; the central heating can quickly dry out the soil if you water it too little but, overly soggy soil could attract insects which are deadly to your plants!
A good rule of thumb is to water your plants every 3 – 5 days to avoid the soil becoming waterlogged but we recommend checking your soil every couple of days to make sure that it hasn't become bone dry.
Enjoy Your Harvest
Congratulations you've successfully grown your own herbs! Now pick off the top of your plants to enjoy a fresh, fragrant addition to your Christmas dinner. We recommend adding fresh sage to your turkey stuffing or crisp mint to new potatoes.
How will you use your herbs this Christmas? Leave a comment below to share your top tips.
Find a fantastic range of gardening supplies online at eDecks. Browse our site today to enjoy fantastic discounts and fast delivery.
Photo credit: cookbookman17 via photopin cc