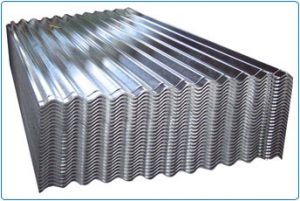 Galvanised roofing sheets are a simple and speedy fix, offering enough flexibility to cover projects of all levels, such as a DIY project to a much larger commercial job. They have the capacity to cover large areas dependent on the size selected and are often chosen due to their protective attributes and lightweight properties. From a cosmetic point of view, galvanised roofing sheets offer something more traditional and are considered to be very cost effective.
A galvanised roofing sheet is steel that has been formed into a flat panel of sheet and is commonly referred to as steel sheet metal, which has undergone the galvanisation process in order to prevent corrosion. The galvanisation process is completed by the steel sheet undergoing a chemical process which increases resistance to corroding over the years. This process also makes the steel much stronger and more dependable.
Key Benefits:
Even in rural and harsh conditions, galvanised roofing sheets have a life expectancy which is much longer than sheets which have not been treated for protection against corrosion. This makes it a better option because it reduces how often the materials will need to be replaced.
Galvanised roofing sheets are a sustainable and recyclable product and because it has been treated with a zinc coating, galvanised roofing sheets will last longer, ensuring a lower impact on the environment. The material can also be reused if its properties have not had too much use over time.
Reliability is a key benefit when it comes to galvanised roofing sheets, and how the product will react throughout its lifespan is easily predicted and presents very few products over time. Galvanised roofing sheets are also renowned for their strength as it can hold its weight when implanted in structural applications.
Another advantage of galvanised roofing sheets is that due to the longevity of them, they are almost always the most cost-effective material. More often than not, galvanised steel is cheaper upfront than other methods of treatment and even if the initial cost is more, the long-term costs will be much lower because of how long they last and how little maintenance they require.
To ensure your galvanised roofing sheets are securely fastened down, we highly recommend Spring Head Nails, which are the perfect fit with an extra-large head to distribute the load directly underneath the top of the nail. Spring Head Nails have a twisted shank for increased holding power and absorb movement when expanding and contracting in varying climates and ensure your roofing stays firm and secure and come complete with PVC dowty washers.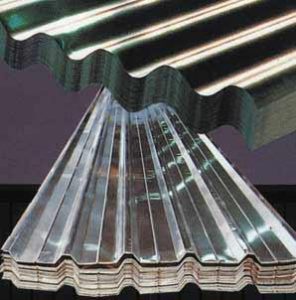 There are two types of galvanised roofing sheets, and starting with Box Profile Sheets, these are economic sheets in a robust, rigid profile design that offer high strength and are available in multiple lengths. Box Profile Sheets are suitable for industrial, agricultural, commercial and domestic roofing and cladding, and can be used as single skin sheeting, over clad of an existing roof or part of a built-up insulated area. They are lightweight, fast and easy to fit, and are the perfect product to be used on walls and roofs. Box Profile Sheets are made using seven rigid profiles of 166mm pitch across the sheet width and 34mm profile height ensuring maximum strength. You will find that they have a wider coated steel strip which gives a secure weatherproof lap, and are a modern alternative to traditional, corrugated roof sheets, often being favoured for domestic properties.
Whereas Corrugated Roof Sheets give a more traditional look compared to Box Profile Sheets and have been around for many, many years. Their popularity often occurs due to their ability to be cut to length, making them a quick and easy roofing solution. Corrugated Roofing Sheets are available in a variety of colours and finishes enabling you to personalise your roofing, whether it be in a domestic, industrial or agricultural setting.
Here at eDecks we have a broad range of sheet sizes which have been manufactured to a very high standard which gives you, the customer, great value for money and longevity in demanding seasonal environments. Be sure to check out our Galvanised Roofing Sheets here.
eDecks offers some of the best deals on Galvanised Roofing Sheets around, including all of the installation supplies and tools you may need. Not only do we provide plenty of unbeatable deals but also:
Super-fast FREE delivery on orders over £100*
48 Hour Delivery on many products
Handy FREE installation guides and instructional videos
*Free delivery applies to most of the UK, but some areas may incur a charge. Please check the eDecks website for more details.