When it comes to Indian Stone, pointing is one of the last and most important stages of getting your patio looking spic and span, and finished professionally. There are quite a few options with pointing and each one has their advantages in certain applications, and today we will take a look at the traditional method of sand and cement, along with air-cured pointing products and kiln dried sand.
As the hardest wearing method, a sand and cement joint is often considered the best way of pointing in on patios, especially on Sandstone Paving, and quite often Slate. Pointing is undertaken when slabs have been laid and given time to dry (24-48 hours) and must be done in dry, frost-free conditions, to allow the mortar adequate time to dry and harden.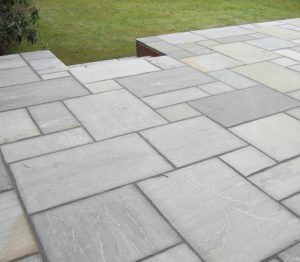 First of all, you need to make sure that all gaps which are to be pointed, are dry and clean, and then the mortar can be mixed. An average ratio of sand to cement is 5 parts sand to 1 part cement – you can go stronger than this but not weaker. We recommend only mixing one wheelbarrow or bucket full at a time as it will harden if left for too long. Mix the sand and cement together adding water as you go to get a near-liquid consistency and then you can begin pointing the area.
It is advisable to have two trowels – one for removing mortar and the other for pushing it down into the joint and firming it down. Work along each joint feeding mortar in off one trowel with the other and pushing it down to fill the joint thoroughly, aiming to evenly fill each joint without overloading it, as getting any wet mortar on to the surface of the slab will prove difficult to get off later on.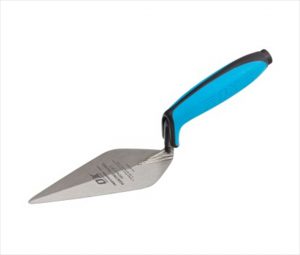 Gradually fill all of the joints with the mortar, mixing more as and when needed, until all of them are filled and then you are ready to smooth down the joints for a nice, tidy finish. The best way to smooth down the joints is with a pointing iron, or the end of a trowel handle, or for an alternative finish, a pointing trowel can be used to groove the pointing the create a rain channel in each joint.
Once all the of the pointing is neatly finished, there will be some debris which should be swept off with a soft brush, sweeping across the joints so as not to disturb the wet mortar if you sweep along them. Once the area is completely clean, wait around 12-24 hours for the pointing to dry, which will depend on the weather conditions.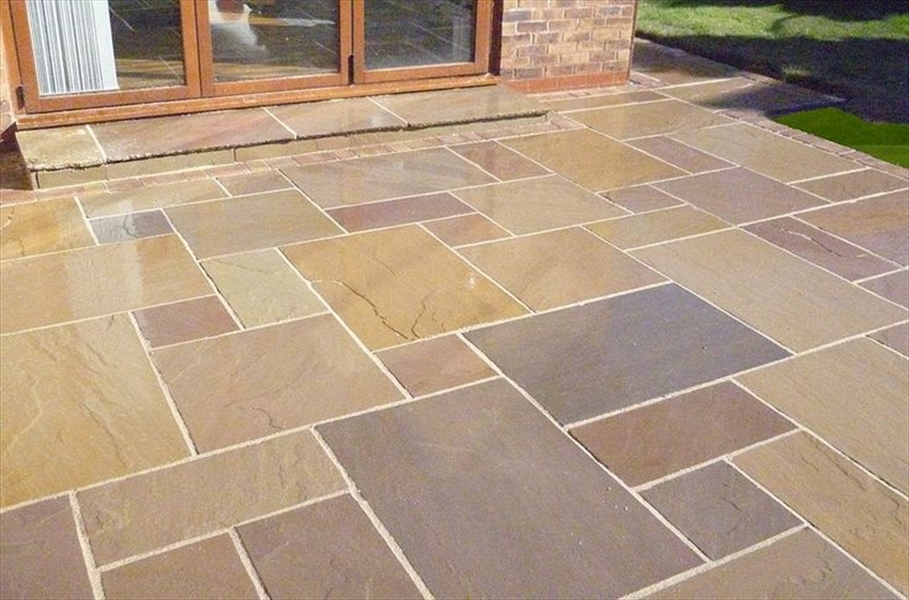 Another method is to use an air curing pointing compound which can be very easy to install and can last just as long as traditional pointing. Just with original pointing, ensure the area is clean and dry, and then it is a simple task of opening the bags and sweeping the compound in using a soft brush, and once swept in press into the joint with a trowel or pointing iron, leaving to cure, and sweeping off any residue that has hardened after a few hours with a stiff brush. You will find this a very simple and effective way of pointing, but ensure you always follow manufacturers' guidelines and it is also worth checking the suitability of the area to be pointed in this way before starting work.
The final method is only suitable for paving which is to be butt jointed (as you would with block paving, for example). This is simply brushing in a fine kiln-dried sand over the area to fill small gaps in between the paving slabs and is only suitable for patios laid on a full mortar or concrete base as there is then little chance of weed growth in between slabs. The sand simply acts as a filler, preventing the gaps filling with dirt and debris over time.
Natural stone is an extremely hard-wearing and low-maintenance paving, yet it may often contain minor imperfections and foreign materials as part of its inherent make up. This does not affect the performance of the paving and being a natural stone product means that no two stones are the same and can result in a wonderful and random burst of colour and pattern, giving your garden a unique look. After laying, you may find that some natural stone products may show a brown colouration, where oxidation of any iron content occurs, which is a natural occurrence in all stone and may bleed from the stone after installation. We recommend that once any oxidation has been removed that the area is left to settle and dry followed by being sealed using an appropriate sealant.
If you have more than one pack of paving to lay then you must fix them using slabs from each pack to ensure you get an even blend of paving. All natural stone products should be laid on a full mortar bed and granite paving must have a cement and liquid SBR (primer) slurry mix applied to the back of the slab before installation.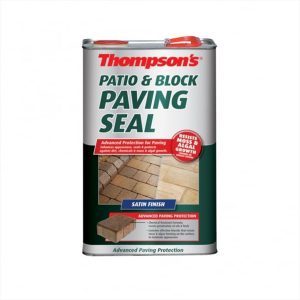 We highly recommend that natural stone paving is sealed using the appropriate sealer, but we do also recommend that paving is left for a season before sealing and that it is completely dry, that any efflorescence has disappeared and the area be bone dry before applying a sealant. Sealing natural stone paving helps prevent the build-up of lichens, algaes, dirt etc and will also help make the paving easier to maintain. Regular maintenance is required to keep the overall appearance of the product in pristine condition and we recommend washing paving areas with warm soapy water and brushing off with a stiff broom three or four times a year.
eDecks offers some of the best deals on Indian Stone Paving and Pointing and Sealing Tools around, including all of the installation supplies and tools you may need. Not only do we provide plenty of unbeatable deals but also:
Super-fast FREE delivery on orders over £100*
48 Hour Delivery on many products
Handy FREE installation guides and instructional videos
*Free delivery applies to most of the UK, but some areas may incur a charge. Please check the eDecks website for more details.