With Summer not too far away now, we wanted to showcase the different types of grass seeds, grass seed spreaders and weedkillers we have to get your garden looking stunning this Summer.
With regards to grass seed, we have many different varieties, available in 1kg increments up to 10kg and then also a 20kg option.
eDecks Economy Grass Seed: This is aimed at keeping the cost low for the consumer without affecting quality. A low maintenance mixture producing a yield that will look good all year round. It is perfect for large landscaping projects where value for money is priority.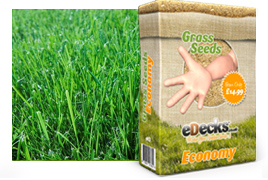 eDecks Hardwear Lawn Seed: A very hard-wearing lawn mixture with Dwarf Amenity Ryegrass. It is fast-growing with an outstanding degree of water tolerance and is ideal for gardens which need extra protection against wear and tear and is especially suitable for family use. Hardwear Lawn Seed produces a superb surface suitable to a range of recreational uses.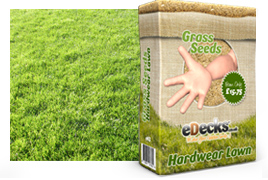 eDecks Quality Fine Lawn Seed: A ryegrass-free ornamental lawn mix which offers quality at an affordable price. This mix produces an exceptionally thick, dense turf which provides a good year-round colour.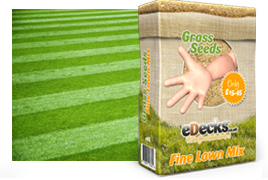 eDecks Low Maintenance Grass Seed: A slow-growing mixture which requires minimum upkeep. This seed gives a stunning fresh green colour across the seasons, combined with a good wear tolerance. We recommend this as a superb choice for surrounds within urban or rural developments, housing or industrial estates. An economical purchase needing very little maintenance once established.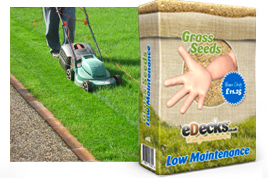 eDecks Shady Area Lawn Seed: This grass seed has been created for a lawn which is deprived of light. This mix uses ingredients which are tolerant to low light areas, enabling you to still have a successful yield all year round.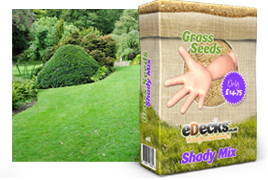 eDecks Childs Play Lawn Seed: The child's play mixture is a dual purpose mix, which offers durability with an excellent appearance. You will find it quick to grow and it will put up with anything and everything a child can throw at it.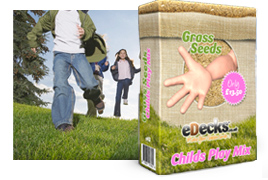 eDecks Renovator Mix: If your lawn is looking tired and you are wanting to bring it back to life, then this is the lawn mixture for you! The Renovator Mix is easy to establish and has rapid germination.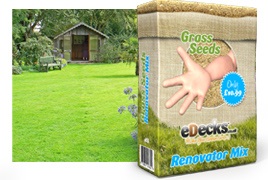 eDecks D.O.T. Verge Grass Seed: A quick way to establish a mixture that offers drought tolerance and soil stability on slopes and embankments. This mixture will tolerate road salt and exhaust fumes so is safe to use on grass verges etc.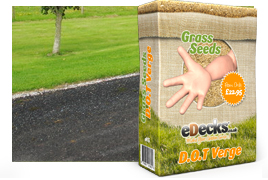 eDecks General Sports Pitch Seed: This is a versatile mixture containing both fine leaved perennial ryegrasses and fescues that will not only perform well under close mown management but will leave a dense and even sward. This is vital where consistent bounce is a pre-requisite, such as tennis and cricket. General Sports Pitch Seed also performs well under wear and is ideal for football, hockey and more.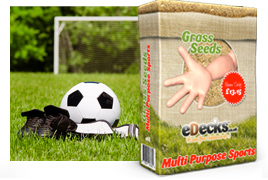 Here at eDecks, we like to make your life as easy as possible, and so along with our wide range of grass seed, we also offer two different grass seed spreaders. The first, our Budget Grass Seed Spreader is a domestic year-round broadcast spreader and allows you to cover large areas quickly. It is suitable for the distribution of seed or fertiliser.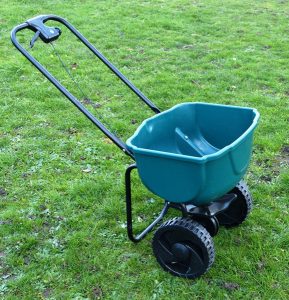 The second one we offer is the 36.5kg Seed Spreader, suitable for spreading seed and fertiliser with a 36.5kg capacity hopper with an adjustable flow rate and pneumatic tyres. This all-round broadcast spreader is suitable for applying fertiliser and seed and the polypropylene hopper sits on a black powder coated frame, with enclosed gearing, a folding handle and a multiple feed setting control which gives a maximum spreading width of 3m.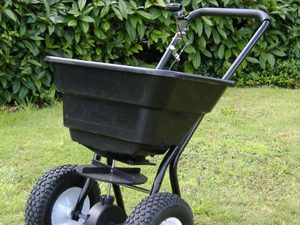 In order to rid your garden of those pesky weeds, we offer many different weed killer products, the first being the Bayer Garden Weedkiller Sachets. This is a systemic weedkiller which kills most tough and deep-rooted weeds including brushwood, bracken and ivy. These simple soluble sachets can be dropped into water and applied using a watering can or a sprayer. The ground will be suitable for immediate replanting once the weeds have died.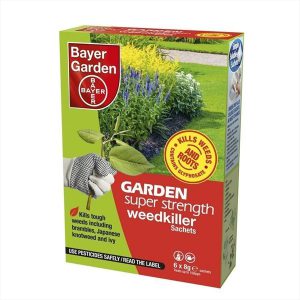 Another option is the Long Lasting Ground Clear, which is great for killing weeds prior to laying decking. It is a unique systemic broad spectrum residual weedkiller that can be used to clear overgrown areas of the garden as well as around woody ornamental shrubs and trees such as roses and on gravel paths and driveways. It is classed as a modern alternative to sodium chlorate.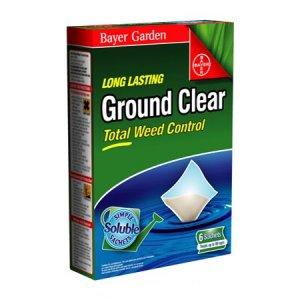 We also offer the Weedol Spray Gun Root Killer which is a ready-to-use solution which gives fast-acting visible results and effective, systemic root kill, so that the weeds don't return. This effective and easy premixed weedkiller provides economical control of large areas of weeds all around the garden.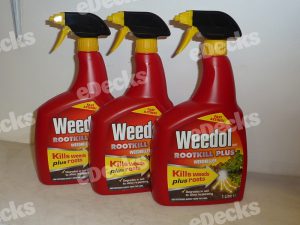 Another spray option is the Roundup Spray Ready To Use Weed Killer, which kills quick-growing annual weeds as well as tougher deep rooted perennial weeds such as ground elder and bindweed and fully degrades in soil allowing replanting. Roundup Spray is a pre-diluted ready-to-use glyphosate weedkiller that kills weeds right down to the roots so that they don't re-grow and sprayed lightly onto weeds leaves it starts working in hours and kills most garden weeds and grasses with a single application.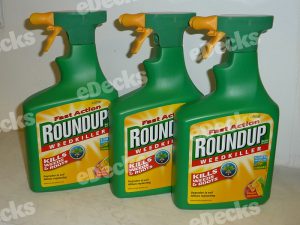 eDecks offers some of the best deals on Grass Seeds, Grass Seed Spreaders and Weedkillers around, including all of the installation supplies and tools you may need. Not only do we provide plenty of unbeatable deals but also:
Super-fast FREE delivery on orders over £100*
48 Hour Delivery on many products
Handy FREE installation guides and instructional videos
*Free delivery applies to most of the UK, but some areas may incur a charge. Please check the eDecks website for more details.