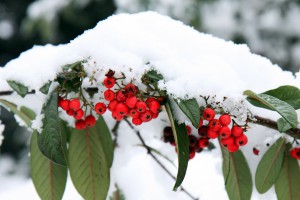 Don't say goodbye to your deck when the short winter days and cold nights set in. With eDecks winter decking design tips you can transform your decking into a winter wonderland that your family and friends will love!
Simply follow our 5 easy decking design steps to create a festive deck that's perfect for brightening up your garden during the bleak winter months. Why not use yours to throw a stylish Christmas party in December? Just add mulled wine to warm up your guests when the sun goes down.
Step 1: Prep Your Deck
Show your deck some love during the festive season by giving it a thorough clean, replacing any broken or damaged boards with new decking and adding a protective timber treatment.
We know it's tempting to skip this stage but if you don't create a solid foundation for your winter wonderland you'll be forced to disassemble your decorations to carry out time consuming DIY jobs when your deck falls victim to warping, mould or splintering!
Step 2: Go Undercover
Covering up your deck with a stylish canopy is crucial during the winter if you want make the most of your decking. A canopy will also protect your decking furniture and winter decorations by acting as a much needed wind break and rain guard.
When choosing a canopy, you want to find one that's manufactured from hardwearing, waterproof materials which will look great for years. If you stay in a region where the winter climate is particularly harsh, a canvas covering might not provide you with the level of shelter you need. Instead consider using a solid, fixed canopy.
Step 3: Light Up the Night
Dark winter nights are no match for decking lights! No winter wonderland would be complete without pretty lighting. Fairy lights are our favourite way to decorate decking for the holidays and create a festive atmosphere. For a quick and easy way to create this look drape a string of fairy lights over decking handrails. If your decking cover has a sturdy frame, use it to hang large decorative lights if you want to turn your lighting into a stand out feature.
Finish the look by installing fixed decking lights that will showcase your winter wonderland and increase the safety of your deck. Our top tip for safety conscious parents is to install fixed lighting on their deck's stairs to prevent trips and falls.
Step 4: Turn Up the Heat
You don't have to let the frosty winter nights keep you from enjoying your decking. Investing in a patio heater will help you to keep warm during the cold nights. If you're planning on throwing a winter party, your guests will welcome the extra heating once the sun goes down!
Patio heaters come in a huge range of styles so you're guaranteed to find the perfect one for your deck whether you need a large standalone heater or a small hanging corner unit.
Step 5: Embrace the Holiday Spirit
Christmas trees? Baubles? Inflatable Santa? Embrace the holidays with outdoors decking decorations! Don't hold back from decorating your deck with fun Christmas decorations as soon as we enter into December.
We recommend using either sturdy decorations that you can nail down or light, easy to move novelties that you can quick move inside if the weather is particularly bad.
Create your own winter wonderland with eDecks. Shop our range of decking supplies online today.