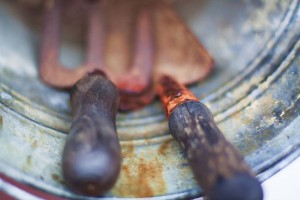 After a harsh winter, gardeners can breathe a sigh of relief now February is here and there are finally signs of spring approaching. As your garden begins to thaw, there's a lot you can do to prepare your garden for spring. If you want a gorgeous garden, follow our top gardening tips for February.
In the Flower Garden
Plant hardy annuals to provide colour until your spring bulbs begin to blossom
Encourage Dhalia tubers that were stored during the winter to grow by placing them in a light, warm spot
Protect budding flowers in your rockery from the last of the winter frost by covering them with a sheet of Perspex or glass
Add a fertiliser to your flower beds at the end of the month to provide nourishment for emerging perennials
Look out for signs of rot on budding perennials and remove any offending foliage to prevent the spread of disease
Check for common garden pests such as mice and slugs hiding in your winter cold box and use pest control methods if necessary
Vegetable Garden Tips
Sow vegetable seeds once the climate becomes milder.
Protect your vegetable patch from the cold February nights using a light polythene cover-up
February Lawn Care
Make the most of dry spells by re-shaping your lawn edging to save you work later on in the spring season
When the weather gets warmer towards the end of the month you may need to mow the lawn to keep you garden looking tidy
If you're turf has been damaged over the winter prepare the seed beds for planning lawn seed
Garden Structures
Remove any built up snow from your green house to prevent damage to the glass panes
If you get a break from the rain, take some time to clean and rubdown your timber structures like pergolas or decking and treat them to coat of protective wood preservative.
Check your decking for damage and order replacement decking boards if necessary
Algae and moss can build up on your garden paths as the temperature rises. Take action by removing any build up before your paths become slippery
If you plan on installing any other garden structures, order these now so you have plenty of time to assemble them during the spring months.
The garden of your dreams is just a few clicks away at eDecks. Shop our huge range of discount garden supplies online today!
photo credit: roseannadana via photopin cc