It has now become more popular than ever to build your own shed, and believe it or not, it is much easier than you may imagine. Today we are going to be taking a look at how to choose the best materials and the right tools to create your very own dream shed.
Sheds are no longer seen as a garden essential, and with the amount of materials now available, you can make your shed into a garden feature. With the World Cup coming up, you may want to add an outside bar to your garden, a shelter for hot tubs, or even a play house for your little munchkins, as well as having somewhere to store all of your tools.
There are so many options available, that it doesn't need to cost a fortune to build your own shed, and by using certain timber treatments such as Ronseal or Cuprinol paints, you can really go to town with your colours, creating a look that costs way less than it appears to. Let's take a look at the materials and tools needed to create your dream shed.
It is worth remembering that poor quality timber, fixings and foundations will lead to a poorly finished product, and here at eDecks we strive to achieve quality at an affordable price. To build your own shed, you should be looking at opting for the following basics;
When choosing timber for your shed, opt for high quality, long lasting products that will weather well and keep your lawnmower and tools safe from bad weather. Our garden shed materials are available individually or together in a kit, and our sales team can advise you on which option would be best for you.
To give your shed a professional finish, it is important to use professional tools and safety equipment – we recommend heavy duty gloves, eye goggles and protective clothing. You will then need a ladder, a spirit level to ensure a sturdy structure, tape measure, power drill and a claw hammer. You can also use shed felt and a sealant gun if you are planning on insulating your shed to further protect it from the elements.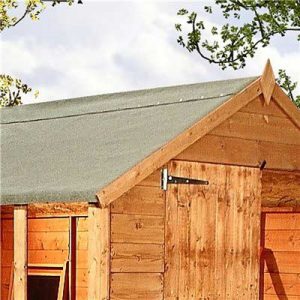 Basic Steps to Building a Shed:
Laying the base and foundation – you'll need treated wooden shed beams and a concrete base
Assembling the shed floor
Raising the walls into place
Fitting the roof
Fixing the windows (if you decide to include any)
Fixing the walls to the floor
There are numerous free plans and designs available online to help you find something that suits your garden's style. To help you decide whether you are wanting to build your own shed or buy one already made, we have come up with some of the benefits to building your own;
Due to a vast range of products, you can create any shape or size you require
It can be made light, medium or heavy duty
You can create a whole range of different shapes
Doors and windows can be sized and located how you wish
Add-on features can be customised inside and outside
It can be made as cost-effective as suits your budget
Building your own helps you to make your shed as strong or lightweight as you need
To finish with, we have a wide variety of timber treatments available, including a rainbow of paints from trusted companies such as Cuprinol and Ronseal, to really give a personalised touch to your brand new garden feature.
eDecks offers some of the best deals on shed building materials around, including all of the supplies and tools you may need. Not only do we provide plenty of unbeatable deals but also:
Super-fast FREE delivery on orders over £100*
48 Hour Delivery on many products
Handy FREE installation guides and instructional videos
*Free delivery applies to most of the UK, but some areas may incur a charge. Please check the eDecks website for more details.