With Spring hopefully not too far away now, it is the perfect time to start planning some outdoor blooms to create your very own outdoor oasis, whatever your personal taste. Here at eDecks, we not only sell the usual tools and materials you may find from other DIY companies, but a wide range of planters to fit all gardens of all shapes and sizes.
Our Elite Hexagonal Planter is available in Medium (£31.19) and Large (£41.59) and is a heavy duty planter which has been create using smooth timbers. Our planters are pressure treated against rot and are delivered to you pre-assembled, therefore perfect for starting the job this weekend! Our heavy duty planters are also available in an Elite Square shape (£36.39) which you will be able to fill with your favourite flowers or even herbs and plants.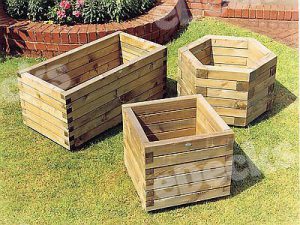 This simple yet sophisticated Wooden Garden Planter Box (£51.99) is slightly raised and has been handcrafted by skilled craftsmen. Using only solid, durable materials that have been carefully selected to stand all outdoor weather conditions as well as being pressure treated to prevent rot and decay, this Wooden Garden Planter Box will be a delightful vision whilst relaxing in your garden.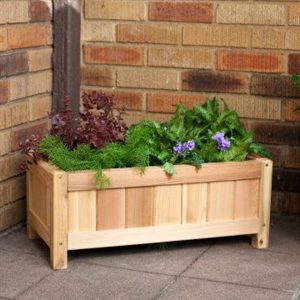 The Bella Rosa Planter (£29.99) is an elegant trellis and trough planter which is ideal for small spaces in your garden or yard. The trellis makes it perfect for climbing plants, growing plants or herbs and it is made from FSC mixed source timber and pressure treated green for a longer life. The base of the planter has small feet so that the trough is slightly raised and it is to be self-assembled but comes with full instructions and a hardware pack. This is also available as the Rosa Planter (£48.79) which is a larger version of this pretty garden feature.
The Elite Planter Nest (£72.79) consists of one large and one medium planter, which are heavy duty planters made from selected smooth timbers. The material used to create these neat yet stylish planters is pressure treated to prevent rot and decay giving you a perfect base to add some colourful flowers to your garden.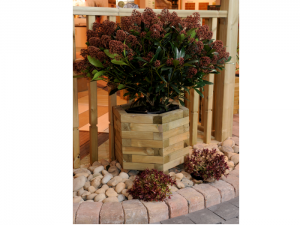 The Corner Planter (£45) is the option to go for when you are wanting more of a garden feature to house your plants, flowers and herbs. This fabulous planter allows you to plant several levels of flowers, plants or herbs, providing opportunity for a varied display and a greater chance for creativity to add height and depth to your garden planting scheme. The Corner Planter has been manufactured from planed timber which has been pressure treated which will help prolong the life of it.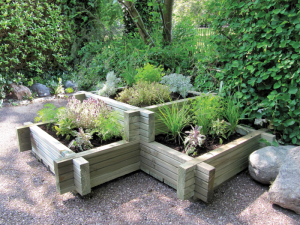 Another stylish feature planter is the Herb Wheel Planter (£48.06). This delightful herb wheel is designed to join together with interlocking timber logs to form a hexagonal wheel with six sections in which to cultivate your herbs, or of course this can also be used for flowers and plants. As with all eDecks products, you know you will receive a planter made from a high quality timber.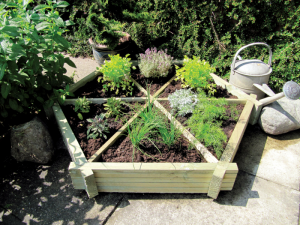 If something more modern is to your taste, then we recommend the Elite Tapered Planter (£49.39). This planter is made from high quality, smooth planed timber that has been pressure treated for a longer life, and crafted into an eye-catching shape that look great by your front door, on the patio or your decking area. The planter is delivered to you fully assembled, complete with a liner so all you need to do is choose what you are going to plant.
If you are wanting to update your garden on a budget, we also offer a Small (£10.39) and Large (£17.46) Treated Garden Planter. These are made on a budget using our discount decking timber but are still pressure treated to help protect the wood from rot and decay. They will still be able to add charm to your garden once filled with beautiful Spring and Summer flowers.
Last, but certainly not least, we have the stunning Raised Corner Planter (£119.59), which is certainly going to add a feature piece to your very own oasis. At three feet high, the three individual compartments of this planter are easy to tend and can be very productive. Whether you are growing vegetables or decorative plants, sowing and weeding herbs, flowers and salad leaves, it is super simple with this planter. The Raised Corner Planter has been made using pressure treated timber to ensure it is long lasting and resistant to decay and perfectly complements the ergonomic design.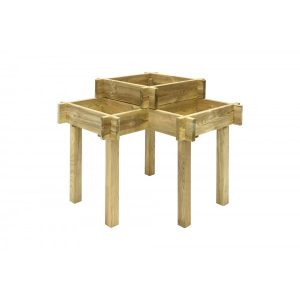 eDecks offers some of the best deals on Planters around, including all of the installation supplies and tools you may need. Not only do we provide plenty of unbeatable deals but also:
Super-fast FREE delivery on orders over £100*
48 Hour Delivery on many products
Handy FREE installation guides and instructional videos