Your garden has is all: manicured lawns, pristine decking, beautiful blooms and stylish garden furniture. You've got it all, or do you? There's no point spending hours creating a garden that's fit for Versailles just to be let down by a make-do driveway. Your driveway is the first thing that greets your guests when they arrive at your home so make sure it's as inviting as the rest of your home with our favourite tips for driveway designs.
Use Log Rolls as Driveway Edging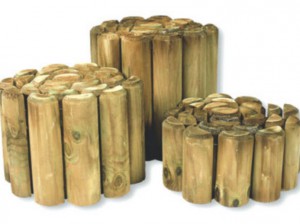 Simple, practical and stylish; just add log roll edging along the length of your driveway to give it an instant facelift.
The beauty of using log rolls is that they're flexible enough to be used on any shape or length of driveway – perfect for those who want maximum impact with minimum effort. If you're struggling with uneven driveway edges or unruly lawn encroaching on your drive, log edging is the perfect low maintenance way to smarten up the entrance to your home.
Paint yours in pastel colours to inject some fun into your garden or, add a natural wood stain if you want your edging to blend in seamlessly to the existing décor.
At eDecks we don't like to brag but, all of our log roll edging is manufactured from FSC timber and has been pressure treated so it's resistant from insect damage and rot. Ok, we like to brag a bit…
Are You Bricking it?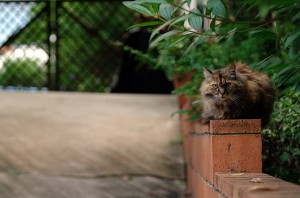 Ahh the humble brick – one item, so many uses!
Line your drive way with a low brick wall to create a modern entrance into your home (cat optional). If you've created a rustic county cottage garden, use old style bricks to give your driveway a stylishly rustic appearance. For extra style points, use your feature brick wall as a sturdy base for climbing plants like climbing rose or ivy.
If your driveway is crying out for resurfacing use different coloured bricks to create a pattern that leads guests up your drive and into your home.
Inviting Driveway Lights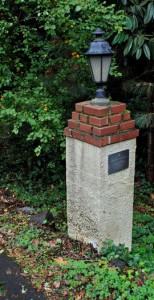 Great your guests with the welcoming glow of driveway lights! On cold winter nights or on shady summer evenings, driveway lights are a pretty touch that'll make the neighbours wish they'd thought of adding them first! As an added bonus driveway lights will instantly make your garden safer if you have to venture out after dark.
Install ground lights for a soft glow, give your garden a vintage twist by adding miniature light posts along the length of your drive or use sleek modern ground lights in front of your house to create an inviting entrance even on gloomy wintery days.
Driveway Gates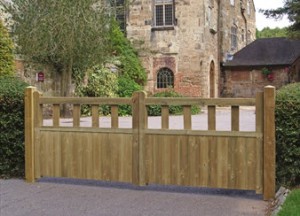 In one simple step you can add the finishing touch to your driveway, increase security in your garden and stop your neighbour's pesky dog leaving presents on your lawn! The only downside is having to choose between styles.
A driveway gate is a fast way to give the whole entrance into your home a lift and it'll set the tone for the rest of your garden décor. Wooden driveway gates will compliment most garden styles and can be easily customised using timber stains or colourful paint.
To ensure your driveway gate is top quality, we've assembled all of our gates by hand and used pressure treated timber that can withstand the temperamental British climate.
Now that you know our top driveway design tips, what's stopping you from creating the driveway that your home deserves? Find all the supplies you need to transform your drive online at eDecks.