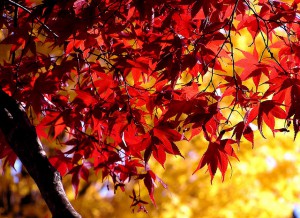 photo credit: Muffet via photopin cc
Now that autumn is upon us, it's time make the most of the last dry days by preparing your garden for the upcoming winter months. If you've been putting off any DIY jobs during the summer, now is the time to push them to the top your to-do list before the winter sets in.
If you're looking for gardening tips for October, use our handy checklist to make sure that your garden is prepared for the upcoming winter months.
Protect Your Fence Posts
When the damp weather sets, your fence will become vulnerable to attacking rot and mould! If you don't prepare your fence now you could have to spend money replacing the damaged sections next spring.
Prolong the life of your fencing by painting it with a through coat of protective fence preserver; our favourite brands are Ronseal and Cuprinol. As well as defencing your panels from decay, these treatments will also prevent the colour of your timber from fading.
Clean Out Your Greenhouse
We know this isn't anyone's favourite October gardening job but cleaning out your greenhouse now will prevent lingering pests from hibernating until next spring.
Start by removing any dead plants and leaves, then wash down the windows and scrub the benches with disinfectant. Finally, use a hose to wash away any remaining dirt or dust. Remember to pay special attention to the corners which can be a breeding ground for garden pests.
Start Your Compost Pile
One of our top gardening tips for October is to start a compost pile if you haven't already done so. It's essential to replenish the goodness in your soil after summer's extensive growing period and, by now you should already have a wealth of materials that are perfect for creating a nutrient rich compost.
Add raked up leaves from trees, kitchen peelings, lawn cuttings, withering vegetables and bedding plants into your compost bin to create a nourishing mulch. Don't forget to turn your compost heap one a week and quickly get rid of any mould or pests if you spot them.
Plant Grown Trees and Shrubs
Even though the main growing season is over, there's still time to add a few planting jobs into your October gardening to-do list. In the autumn when your soil is moist and still slightly warm, you will have the perfect conditions to plant grown trees and shrubs.
It's unlikely your soil will be suffering from drought thanks to our autumn climate but it's still a good idea to check your soil first before planting anything.
Find all the October gardening supplies you need online at eDecks. We have great discounts on protective fence treatments, compost bins and more!