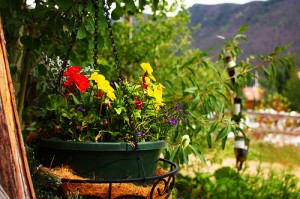 July is a fantastic time for gardeners. This month your summer garden will have reached its peak and you'll be able to enjoy the warm summer days in your own private garden paradise. To keep your garden looking great during the summer months, follow our gardening tips for July then sit back and enjoy your beautiful blooms and lush lawn.
Seeds to Plant in July
By July, most of your summer plants will be in full bloom but there's still time to boost your flower garden by planting colourful flowers which will bloom until the early autumn. If you want instant colour in your garden, you'll be able to buy ready-to-plant potted flowers at most garden centres.
The best seeds to plant in July are:
Delphiniums
Lychnis
Pansies
Foxgloves
Canterbury Bells
Forget-Me-Nots
July Plant Care
Your summer plants will have reached the peak of their blooming cycle by now but, you can encourage your summer plants to flower for longer with these simple gardening tasks:
Deadhead border perennials such as delphiniums to encourage a second summer bloom
Cut back any fading perennial plants to keep your garden borders tidy
Cut back any overgrown summer climbing plants to give your garden a well-groomed appearance
Take cutting from your favourite tender plants which won't survive once the weather begins to cool. You can grow these cuttings inside over the winter and replant them next summer
Feed your plants with a nourishing plant feed to encourage healthy growth
 Thoroughly water our plants at least twice a week. This will encourage the plants to put down deep roots by searching for water in the soil rather than coming up to the surface.
July Gardening Maintenance Tips
Make the most of the dry weather in July by carrying out these quick fixes that will instantly transform the look of your garden:
Spruce up the garden fence by giving it a fresh coat of paint or wood stain
Wash the outside of your garden shed to remove any lingering moss
Invest in a good pest killer to get rid of any bugs that are lurking in your flower beds
Add any dead plants to your compost pile to create a nourishing mulch for the autumn
Remove any algae  that has gathered in your pond over the summer
Clean your pond's filters or pumps to keep your pond water crystal clear all through the summer
Clean your garden furniture and replace any broken chairs or tables with new pieces which co-ordinate with the existing furniture
Summer Lawn Care
July's warm, humid days are ideal for growing a gorgeous lawn but if you're not careful, your grass can quickly become overgrown and unmanageable.
Keep your lawn under control with these July gardening jobs:
Mow the grass frequently to keep your lawn looking well-groomed
Remove any invading weeds with a good weed killer
Frequently water your lawn if there are long spells of warm, dry weather during July to avoid brown patches spoiling your lush, green lawn
If your grass is looking a little patchy, sprinkle quick growing grass seeds over areas where the grass has thinned to perk up your lawn
What are your top July gardening tips? Let us know how you maintain your gorgeous garden during the summer months.
Browse our site to find all the products you need to keep your garden looking healthy this summer.