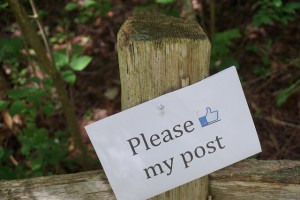 Don't sit on the fence when it comes to updating your old worn out garden fencing . With eDecks' guide to putting up fencing like a pro, you can take the steps needed to tidy up your garden with a beautiful boarder.
Although putting up new fencing isn't the trickiest task, some DIY skills are required so we advise asking a friend to help if you're not a DIY pro.
The length of time to complete the job all depends on the size of your own garden however, if the weather's nice, you can expect to finish the job over a weekend.
1 – Ask the Neighbours
Every new fencing project should begin with a courtesy call to the surrounding neighbours. This has as much to do with keeping good relations with them as it is for practicality – constructing a new fence is always easier to do if you have access to both sides of it.
You can also use this time to double check your property boundaries to avoid any disputes later on. If you have any doubt the boundary lines you can check your deeds from the Land Registry. You are free to construct a new fence as long as it is inside your boundary.
2 – Pick a Type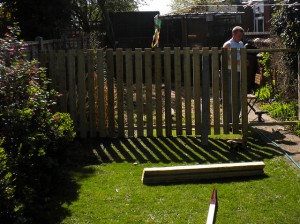 It's important to find the right type of fencing for your garden. When you start shopping around, you'll find a huge range of fencing to choose from so consider what you want from your fence before you make your decision.
For example, do you want decorative or sturdy fencing? Do you want it to be made from timber or metal? eDecks' has a variety of attractive fence panels in stock. Browse our range online and choose a style that is suitable for your garden size, fence location and your privacy needs. Some of our favourites are:
Overlap fence panels are constructed from overlapping horizontal boards and offer high levels of privacy at a very good price.
Heavy Duty Vertilap are the strongest fence panels, offering a perimeter fencing that is very sturdy and absolute privacy.
Trellis fencing is extremely adaptable, light and easy to put up, the panels can be used as standalone fencing or as decorative panels to top off a sturdier base.
You may even like to try some alternative fence panels such as Willow designs, or picket fencing. Each design will add it's own unique character to your garden.
To decide how many fence panels to buy, start by measuring the area that you want to cover. Since fence panels are usually 6ft wide, you just need to divide the length of ground by six to calculate how many fence panels you'll need – an area of 30ft would require five fence panels.
3 – Post-it
With your fence panel designs taken care of, it's time to get started installing the fence posts. Steel fence posts are by far the more sturdy option in comparison to wooden fence posts however, they require a lot more effort to put up.
Timber posts on the other hand, are relatively easy to erect so they're perfect if this is your first time building a fence. If you're using timber posts you can extend their lifespan by using a wood preserver of your choosing. Don't forget that all of eDecks' timber fence posts for sale are manufactured from pressure treated timber so they're resistant to rot and decay
4 – Supporting Cast
Next it's time to set the posts in using concrete or using steel fence supports to keep them in place. Both methods are good options for securing your posts in the ground, although if you chose to set your posts in concrete you will require longer fence posts.
For a six-foot high fence, you will need eight-foot long posts if you are to set posts in concrete, as the posts will need to be buried at least two feet deep. If you plan to use steel supports, you can use six-foot long fence posts.
It is always advisable to check the maximum height your fencing is allowed to be with your local planning authority. As a rough guide, rear garden fences can be up to six feet high.
5 – Let's Prep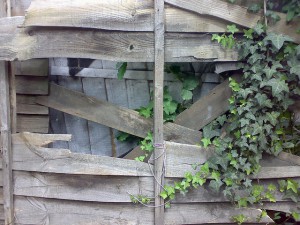 Prep by marking the line your fence will follow with string, attaching it to posts along the boundary line.
If you previous had a fence, this will need to be removed before the new one is installed . Break up the old fence panels into easy to handle pieces and cut down any fence posts with a saw or bolt cutters if they were steel.
If you previously set posts in concrete, plan to position your new fence between the old postholes since to dig out all the old will be time consuming and leave the ground too unstable for a new fence posthole.
However, you will have to dig out the first and last posts and replace them. You will need more concrete for the new holes to make up for the damage caused by digging out the old posts.
If you are using steel supports, be sure to check for any electrical cables or pipes that are running along the line of your fencing.
Any climbing plants or dense grass should also be cut away to allow easy access to the area.
6 – Diggin' it
If you are using wooden posts, make sure to make the holes at least two feet deep. Any shallower and your brand new fence might be a bit wobbly during strong winds.
To make things easier when it comes to digging the holes, a post-hole borer is a very helpful tool to hire, although your trusty spade will also do the job.
Using your boundary string line as a guide, dig holes at the two ends of the line. You should aim to have holes that are three times wider than the width of the post therefore, if your post is 4×4 inches, dig a hole 12×12 inches wide. This will ensure that the concrete foundation will be sturdy enough to secure your post. Mark a 8ft scrap of timber two feet above the bottom to make sure that the depth of the holes are correct. If the mark lines up with the ground, your postholes are deep enough.
If you are using steel fence supports, place a piece of scrap timber into the support and hammer that into the ground until the top of the steel support is level with the ground.
7 – Set in Their Ways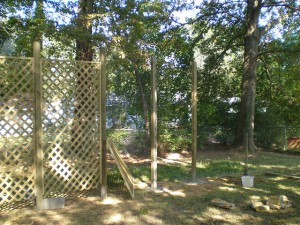 If you're using steel supports, you don't need to worry about securing your posts in the ground. When using wooden posts, you'll need to set concrete around them to hold them in place.
When thethe first and last postholes are ready, position your post and ask a friend to hold it in place. You can mix your own concrete if you prefer but, a 1kg Postcrete mix will work just as well. -Check the instructions on the bag, but usually filling the hole half way with water and pouring in the mix is the way to go.
The Postcrete mix will set in just a few minutes so make sure your posts are straight using a spirit level. Slope the concrete away from the post using a trowel to get the water to run away from the base of your posts.
Next, attach a new line of string on the top of your top bookending posts to make sure the other posts line up correctly all along the boundary. You can also use this line to quickly check that the heights of your posts are correct too.
With the line in place you are ready to continue digging the other holes if you haven't already done so.. Measure out and mark the position of the holes by placing the fence panels against the first post.
8 – Putting up Panels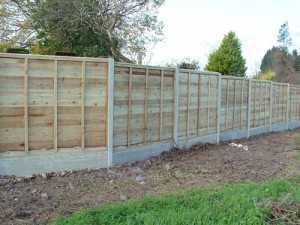 Now that your posts are in place, nail the post clips to the fence post first and then onto the fence panel. Two or three U-Shape clips per post will be enough to hold the panel in place.
Keep the base of your panels from rotting by installing gravel boards. You can protect the top of your posts by using a decorative post cap. Prevent the cap from splitting by drilling a hole into the cap before you attach it to the post.
Now all that's left to do is stand back and admire your new fence; a great finishing touch to your perfect garden.
For great discounts on a fantastic range of Fence Panels and fencing accessories, please browse our online store.