Ever look around your city surroundings and think how good it'd be to get back to nature. If you've got the opportunity to build your own DIY rooftop garden, it's the perfect way to carve your own green haven amidst the hustle and bustle of the city.
When you look at rooftop garden designs you'll be amazed at how easy it is to create a stunning outdoors space where you can kick back and relax during warm, sunny weekends. To help you get started, here's the three basic item you need to create a stunning rooftop garden.
Pretty Planters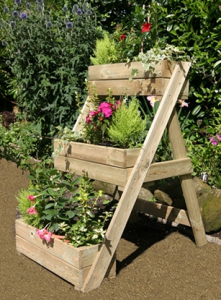 Since it's not advisable to cover your entire rooftop in soil, invest in pretty planters which you can fill with your beautiful blooms. Planters are the foundation of your rooftop garden and can be easily customised to suit your style. Bright paint and patterns are ideal for injecting some fun into your garden or, if you're planning on planting bright, bold blooms use wooden planters to let your blooms take centre stage.
When you're filling your planters with blooms make sure you leave enough space for your plants to expand and bloom – you don't want the poor things jostling for space!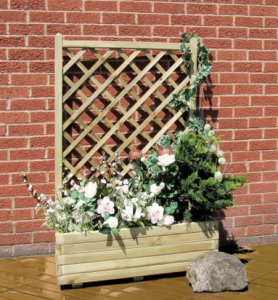 If you're working with a small space, make the most of your walls by adding a planter with a trellis to provide a sturdy frame for climbing plants such as climbing roses or ivy.
Our Rosa Planter is perfect for getting the most out of your limited space for growing plants and it has been pressure treated so it's resident to rot and mould.
Eco-Friendly Water Butts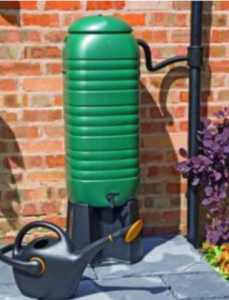 Ok, they're not the most attractive or exciting things to have in your garden but when you don't have to haul water up to your rooftop you'll be thankful for having a water butt. These handy containers save and store rainwater – something we're not short of in Britain, which can be used to for watering plants. Using rainwater on your garden is also much better for the environment and since eDecks' water butts are manufactured from 75% recycled material, they're perfect for eco-conscious gardeners.
The compact design of eDecks' slim line water butts means that they won't take up too much of your valuable growing space and they can be discreetly tucked away in the corner.
Be Prepared with a Windbreak

At eDecks we're always optimistic about the summer but savvy gardeners should be prepared for all kinds of weather to strike. Due to the higher altitude and lack of shelter, Rooftop gardens can be vulnerable to high winds so it's worth investing in a sturdy windbreak to protect your blooms from the elements.
You can easily make your own by fixing bamboo canes in the soil around the edges of your planters and stretching a durable sheet of polythene across the poles. Alternatively, eDecks' Frost Cover makes an excellent windbreak once the colder autumn months set in.
Now you know the basics, tell us about your plans for your rooftop garden design.
No matter how big or small your garden is, you can find everything you need to create your own slice of paradise online at eDecks.