Is your outdoors space going to waste? Make the most of your garden this summer with a rattan furniture set. Outdoors future can instantly transform your garden into an inviting space for family and friends to enjoy. You'll no longer need to have dinner indoors when the sun is shining or, hunt for a blanket to lie down on when you want to unwind in the sun. With garden furniture your outdoors space will get a new lease of life!
To inspire you this summer, here's our pick of the best rattan furniture designs:
Classic Roma 4 Seater Dining Set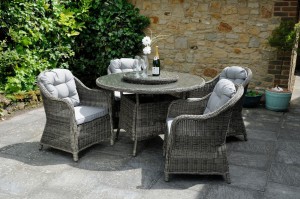 The Classis Roma 4 Seater Dining Set is one of our most elegant designs. On a warm summer's day this set is perfect for enjoying breakfast in the sun. Imaging sinking into a comfortable chair and watching the world go by.
While this timeless set will look stunning in the courtyard of a large country cottage garden, it will look equality as at home on a wooden deck in a smaller modern garden.
Classic Napoli 8 Seater Dining Set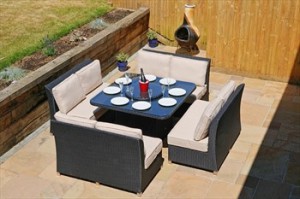 Napoli rattan furniture sets are a modern classic! The simple lines and inviting sofa design on the Classic Napoli 8 Seater Dining Set will ensure that your furniture set never goes out of style. Simply add this set to your garden to instantly create a space for intimate family gatherings or somewhere to kick back and have a drink with friends. The simple design gives you the freedom to personalise your rattan garden get as your choose. We're big fans of adding colourful cushions or bright crockery sets to bring your rattan to life.
This style of rattan furniture is more compact than most other types, making it ideal for smaller gardens as well as garden decking.
Classic Roma 8 Chair Dining Set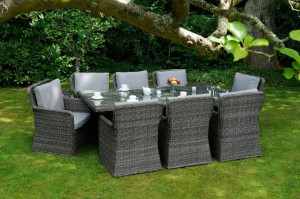 When you have a Classic 8 Chair Classic Roma Set you can make the most of a sunny day by throwing a large get-together like a relaxed BBQ, a fun garden party or a spontaneous al fresco dinner party. If you regularly host summer parties, our top tip is to string fairy lights to the surrounding trees to create a festive atmosphere when the sun goes down.
Since this pretty set makes an excellent focal point in your garden, we recommend placing it in a natural beauty spot to draw attention to the best parts of your garden.

Ledbury 9 Piece Rattan Cube Set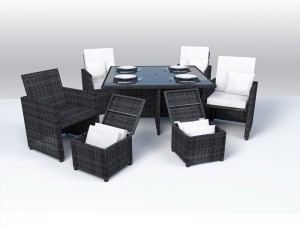 Last but not least, is the Ledbury 9 Piece Rattan Cube Set. Over the summer, this set will co-ordinate seamlessly with your existing garden décor and during the winter (and most of the summer), you can bring it inside where it will look fantastic in your conservatory.
The hidden storage in the cubes makes this set a particularly popular choice amongst parents with young children. The storage cubes are perfect for quickly clearing away and storing children's outdoors toys and games.
Why Choose Rattan Furniture Sets from eDecks?
At eDecks we love rattan furniture sets and we want you to love yours too, what's why we only stock exceptionally high quality sets that are both stylish and practical.
So what goes into a rattan set from eDecks? For starters, we only use premium synthetic rattan that's manufactured from a blend of four tones to ensure that it has a natural appearance. We've chosen to use synthetic rattan because it's highly resistant to the elements and as a result, has a longer lifespan than natural rattan. Our high quality synthetic rattan will allow you to cut down on the time you spend maintaining your furniture and give you more time to actually enjoy your garden.
We also use tampered glass for all of our tables to ensure that it's strong enough to be resilient to everyday use as well as weather resistant.
If you've been inspired to buy one of our top rattan furniture designs, it could be yours for less than you might expect. Browse online today to discover our fantastic discounts on rattan furniture for yourself.