Its Halloween weekend, we hope all our customers have a great and safe Halloween.
Here are some Halloween safety tips to keep your decking spookily awesome  oh and have you seen our autumn maintenance guide?
Firstly, do not put your pumpkins on your decking surface. Pumpkins will rot and sometimes faster than you think causing damage to that area of your decking. The moisture and rotting flesh (nice) will not make your decking happy one bit.
So maybe pop a plate under it or if your wanting to keep the aesthetics of your decking we sell samples of decking which would make the perfect platform for now and future use.

On the subject of pumpkins the other reason to put them on a surface that is not your decking and is not flammable – candles! Yes, we all love the lit up look of our spooky creations but even tea lights get very hot reaching 100 degrees on the metal bottom and can scorch your decking or worse if it catches.
Finally keep all kids, cats, dogs and ghostly friends away candles. This is standard we only want you to be safe, If you are worried invest in some battery operated ones.
Lastly have some sweets, eat some pumpkin pie and enjoy your Halloween festivities.
Happy Halloween from us all at eDecks.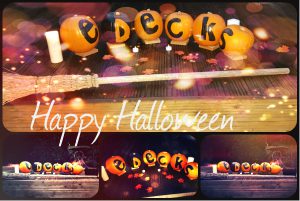 Note: Please dispose of your pumpkin in your recycle bin or alternatively It makes great compost.