Well hello there sun, welcome back old friend! We're making the most of the warm weather in the eDecks garden with ice cold drinks and a shady gazebo – the perfect way to stay cool when the temperate gets hot.
Don't have a gazebo in your garden yet? Why not? eDecks' budget friendly prices and superior quality timber means that the dream of owning your own gazebo could finally come true! Now the only question is: with eDecks' wide range of gazebo designs to choose from, which one will you pick?
To help you answer this burning question, here are some of our favourite gazebo designs:
The Budleigh Gazebo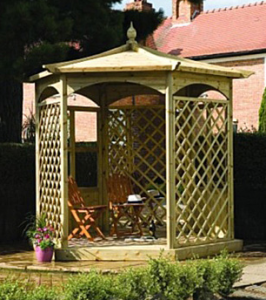 Install the stunning Budleigh Gazebo in your garden to instantly create a country cottage garden. The lattice panels let the sunlight stream in while the sturdy roof will keep cool. No respectable wall garden would be complete without a climbing plant or two. The frame on each panel provides a sturdy climbing frame for ivy or the stunning Rosa 'Danse du Feu' variety of climbing rose.
The Regis Gazebo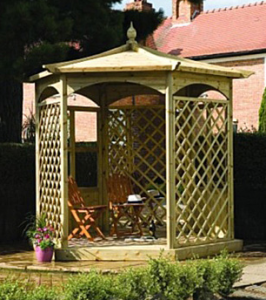 Want a centrepiece for your garden? Call of the search and spend your summer relaxing in style in the Regis Gazebo. This incredible design piece mixes the traditional bandstand gazebo railings with modern latticed panels to create a style as special and unique as your garden. The Regis Gazebo is made from specially selected softwood timber that's planed and pressure treated to prevent rot and decay. To finish, we've added a green tinge to bring out the natural beauty of the wood.
Canterbury Gazebo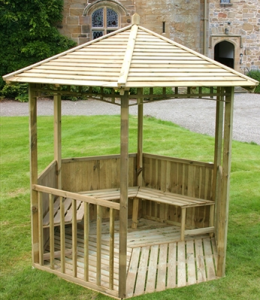 Pared back and stylish, this classic bandstand style Canterbury Gazebo will compliment your existing garden décor perfectly. The in-built bench makes it the perfect place to sit back and relax while the world goes by. During the height of summer this gazebo will provide gardeners with a shady paradise after a long afternoon tending to their blooms in the sun. If you're planning on customising your gazebo, the simple design is the perfect base to stamp your personality into. Why not personalise it by letting your kids paint their designs onto the side panels?
If our picks of the top summer gazebos has inspired you, take a look at our full range of spectacular gazebos online today. Once you find the one that's right for your garden we'll deliver it within a few working days – now how's that for service?! Shop at eDecks' today to find out more.