Decking is an attractive and useful upgrade to any garden, as well as helping you to avoid the upkeep of mowing the lawn. But with so many options out there, it can be difficult to choose the kind of decking which is best for yourself and your garden, so eDecks are here to help you decide between anti-slip decking and standard decking. The main types of decking materials that you will find will be softwood, hardwood, composite and anti-slip.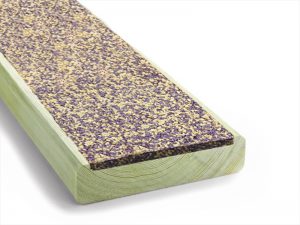 Softwood decking comes from fast growing trees such as pine, which is quickly replaceable. This then makes this decking material the cheapest option, but it is weaker than a hardwood or composite decking.
Things to know about Softwood Decking;
The cheapest decking material
Easy to install
Requires the most maintenance (cleaning and treating with oils is recommended for longevity)
Lasts up to 25 years when well maintained
Colour and finish is easily changed
Hardwood decking comes from slower growing trees such as oak, which can be far rarer and therefore are often the most expensive decking option. Hardwoods can pay off though – not only are they more aesthetically pleasing but they usually last longer than softwood and require much less maintenance.
Things to know about Hardwood Decking;
The most expensive material
Harder to work with (but eDecks provides plenty of guidance and support)
Requires much less maintenance than softwood
Can last for over 50 years
Can look the most impressive
If you live in a particularly wet part of the UK, or you're planning on adding a high-risk slip area to your deck, such as a hot tub, you may want to consider how you will make your deck safer to use. Anti-slip decking is a perfect solution for this, or whether you have young children, or are simply unsteady on your feet.
If you know your deck is likely to face a great deal of water and heavy foot traffic, getting full anti-slip boards may be your safest option. Full anti-slip boards feature large inserts that cover the majority of the board with a rubbery material that is not only waterproof but more importantly – slip resistant. This means that you will still be able to walk across your decking safely, even when covered in large puddles of water.
These are the best decking boards you can get to avoid accidents and will have the best grip, so if you are looking for a very safe deck or if you are decking an area near a pool or hot tub, we would highly recommend using these boards. Anti-slip strips aren't always to everyone's taste aesthetically, but you can get them in a variety of different colours to suit your deck – there are even grass look decking boards if that is something you feel would fit your garden.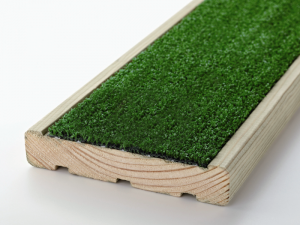 If your decking isn't used as a splash deck, but will still be exposed to water, you could invest in some anti-slip decking with built-in anti-slip strips. These decking boards look very chic and the anti-slip strips are probably the least noticeable of any option – so if you're wanting a good looking wooden deck, but with the extra safety of anti-slip features, these are the boards for you.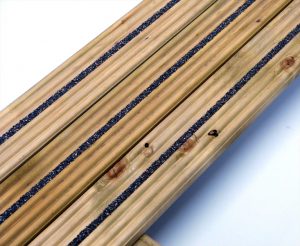 Made with thin anti-slip strips of material made of resin and aggregate, each line of anti-slip material can easily be mistaken for a shadowed groove instead of a safety feature. Because of the incredibly professional finish, these can be a popular but more expensive option, however, we would always recommend speaking to one of our friendly yet professional sales team before being put off by price as we always offer incredible decking on many types of decking. You can even buy samples of all decking options to ensure you pick the best product for you and your deck.
To conclude, anti-slip boards will last the same amount of time and need the same treatment as standard softwood decking boards and this goes for the hardwood option too. Hardwood decking and anti-slip hardwood decking will last the same amount of time as each other and will also require the same treatments. The only difference between Softwood, Hardwood and Anti-Slip Decking boards is the fact that they have the grit inserts running through the boards and will be a lot more comfortable under foot than your normal decking.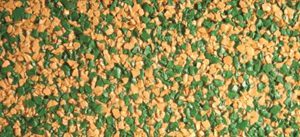 eDecks offers some of the best deals on Anti-Slip and Standard Decking around, including all of the installation supplies and tools you may need. Not only do we provide plenty of unbeatable deals but also:
Super-fast FREE delivery on orders over £100*
48 Hour Delivery on many products
Handy FREE installation guides and instructional videos
*Free delivery applies to most of the UK, but some areas may incur a charge. Please check the eDecks website for more details.