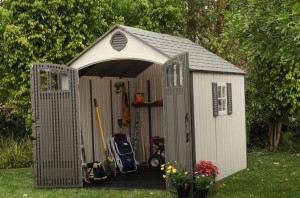 If you only have time to do one thing in the garden this weekend make sure that it's showing your wooden shed you care by giving it a thorough spring clean. The summer months can be demanding on your garden shed and if it has been neglected over the winter you could find that it's in serious need of TLC.
Want to know how to repair your shed and restore it to its former glory? Then you're in luck! Follow our simple tips to perk up your shed today.
What You'll Need
Step 1 – Spring Clean Your Shed
The first step to transforming your shed from a health hazard into your no.1 garden ally, is to give it a proper scrub down. If your sheds are anything like ours, you'll need plenty of elbow grease to get rid of all the dirt and cobwebs that have gathered over the winter!
Begin by emptying your shed of tools and equipment. Then use the broom to sweep out any dirt and dust that's lingering. For extra points, get out the mop and bucket and disinfect the floor and walls of your shed with a good cleaning agent to get rid of any pathogens could have transferred from your plants to your shed on your garden tools. This will prevent you from unintentionally spreading disease form your garden tools to your new spring blooms when you start work on your flower beds again.
Once you've got a nice clean shed to work with go through your tools, throwing out anything that you no longer use or need to be replaced. It's a good ideal to give the remaining tools a thorough scrub too so they don't bring dirt into your nice, clean shed.
Step 2 – Inspect your Wooden Shed for Damage
Now that your shed has been emptied and cleaned out, you will be able to see if your timber shed panels have succumb to rot or mould over the winter. Make sure to check your shed roof as well to see if the shed felt has become ripped or torn by mice or other pests that may have be scampering about up there. If you think your shed roof boards or shingles are looking a little bit worse for wear, stop leaks from damaging your expensive gardening tools by simply swapping the old roofing boards with sturdy replacements
Is your shed boarding cracked or showing signs of rot? Simply pull out the nails with a claw hammer and slot replacement tongue and groove timber boarding into place and secure it with sturdy nails.
Step 3 – Add a Protective Wood Preserver
By now your shed should be looking much healthier. Seal the deal by using a quality shed wood preserver to protect your shed from rot or mould from occurring if the summer turns into a wash out.
If you want to give your shed an extra pick me up, choose a shed preserver with a slight tint in order to enhance the colour of your timber and make your garden masterpiece look as good as new.
Step 4 – Organise your Wooden Shed
Now that your shed is clean and tidy, you'll want to keep it looking as good as new for as long as possible. Organising your gardening tools and supplies now will save you from having to do this later in the year when you'd much rather be outside relaxing the sun.
When you're organising your gardening equipment you'll discover if your shed could use some extra storage space. Adding shelves or building a simple tool rack is a great way to keep your tools neat and tidy all year round
Step 5 – Make a Well Deserved Cuppa
Well done! You've finished your main gardening task for the month. Now put the kettle on, sit back, relax and admire your handy work.
Find everything you need to repair a wooden shed at wallet friendly prices online at eDecks. We have fantastic discounts and fast delivery available on our full range of garden shed supplies.