How do you use your side garden? A space to keep the bins, the wheelbarrow, old plant pots or the kids' bikes? Here lies the often neglected little stretch of your garden sitting at the side of your house.
Front and back gardens typically get all the attention and praise lavished upon them but your side garden could also be transformed into a beautiful, eye-catching area with our helpful tips for inspiration to show your side garden some love.
Garden Archways

An eye-catching archway is the perfect feature to increase the elegance of your side garden. Combined with a lush, green ivy covered walls, an archway will instantly add some intrigue and enchantment to your pathway.
An archway is also a very appealing departure from the traditional wooden gate entrance. Why not use yours as a way to highlight the first steps into your own secret garden.
Stepping stones

Do away with the standard paving stones in favour of stepping stones to turn your side garden path into a simple but pretty design feature. Adding stepping stones made from paving slabs will transform the route down your side garden path into a fun mini-adventure.
The unique detail of stepping stone paving will give the mundane daily trip to take out the bins a little touch of charm.
Green Walls

Side gardens are as much about the vertical surfaces such as the fences and walls, as they are about the garden floor. Use the extra dimensions to your advantage by incorporating exotic plants that climb or cling to your surfaces to create another show stopping wall of greenery.
"The Vertical Garden" by Patrick Blanc illustrates the best use of climbing plants to insert more green into a limited space. If you feel climbers might become too unruly, tall planters work just as well to break up the solid surfaces of exterior walls.
Pleasant Surprise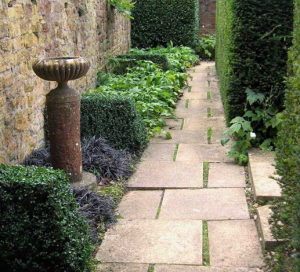 Want to add some landscaping flair to your wall of greenery? Think about inserting some dramatic stonework to add a focal point to your side garden. A classic stone urn would be a real eye-catcher, or perhaps try incorporating a stone bench within your shrub garden or a couple of miniature, ornamental trees.
Featuring a bird bath will not only make the view onto the pathway from your window more interesting but will help bring your garden to life.
If you need some inspiration to enhance any area of your garden, please feel free to browse our great range of garden buildings and garden accessories at eDecks.