Got your eye on a pretty pergola but are worried that your garden could be too small? With eDecks' top tips for pergolas for small gardens you don't have to give up on owning the garden of your dreams. Simply follow our guide and you can make the maximum impact using minimum space.
Frame a Patio Door with a Pergola

Quickly turn your pretty patio doors into a garden feature by attaching your pergola onto your home. When you're selecting a pergola make sure to consider the overall aesthetics of your home; a natural wooden pergola is ideal for giving your garden a country cottage feel whereas, a metal pergola will instantly give your home a modern edge.
We recommend eDecks' stylish Dragon Patio Pergola.
A Pergola Arch is the New Walled Garden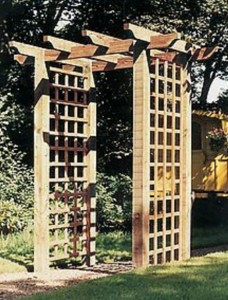 Make your pergola work harder by using it as a sturdy frame for climbing plants. Use varieties of plants such as ivy, Californian lilac, climbing hydrangea or climbing roses to add a splash of colour to your garden in time for spring. One advantage of swapping a walled garden for a pergola is that the slats allow more light to reach the plants so you can enjoy bigger, brighter blooms that flower for longer.
eDecks' Portico Pergola is ideal for narrow gardens and, it's manufactured from high quality timber so you don't have to worry about your plants climbing frame succumbing to the elements.
Pergolas are the Perfect Partner for Patios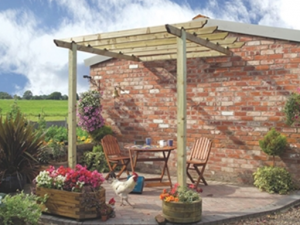 Think you only have space for a patio or a pergola? Think again! Pergolas are the perfect finishing touch for wooden, brick or concrete patios. The trick to creating a pulled together look is to install a pergola that compliments your patio to ensure that it blends in seamlessly. eDecks' Traditional Patio Pergola is finished with a natural green tint to give you a blank canvas which you can easily customise with a stain or varnish of your choosing.
Don't let a small issue like space come between you and your perfect pergola! Browse eDecks' range of pergolas for small gardens online today.