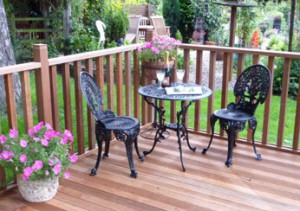 Hardwood? Softwood? Composite? Is choosing between different types of decking making your head hurt? When you invest in decking, you want to make sure that you choose the right type for your garden. Before you start browsing our range of decking boards, sit back, relax and take our quick quiz that will help you find your perfect type of decking.
How Often Will You Use Your Deck?
A. All the time! You need a deck that's resistant to wear and tear so you can use it as a children's play area or a space for family dining.
B. Most of the time. You want decking that you can use as a space for entertaining guests.
C. Occasionally. You don't need to use your decking everyday but you'd like to make the most of your outdoors space by creating an area for relaxing in the sun or occasionally socialising.
How Much Time Do You Have for Deck Maintenance
A. Very little time. You have a busy lifestyle so low maintenance decking is essential.
B. Some time. You want decking which will only require occasional upkeep to look great.
C. Time isn't an issue. You enjoy DIY so it's no problem to spend time in the garden adding a protective stain or varnish to your deck.


Are You Planning on Adding a Finishing Stain or Varnish?
A. No. You want great looking decking without adding a wood stain or varnish.
B. Yes but you want to have decking that you only need to add a treatment occasionally.
C. Definitely! You're looking forward to customising your decking with a wood stain or varnish of your choice.
Find the Best Decking for Your Garden!
Mostly A
Composite Decking
If you answered mostly A, composite decking is the best type of decking for you! eDecks' range of composite decking is created from a mix of eco-friendly recycled timber and plastics which makes it resistant to warping and splintering.
This type of decking is perfect if you have a busy lifestyle as it's extremely low maintenance and it will look great with or without a stain. Composite decking is more robust than traditional wood decking so it's ideal if you frequently use your deck and need decking boards that are resistant to daily wear and tear.
Mostly B
Hardwood Decking
Hardwood decking is perfect for your garden. This type of decking is ideal for those who want a traditional deck but, don't want to spend too much time on regular maintenance. Fashionable hardwood decking is more durable than softer types of wood so it's resistant to warping and weathering even in wet climates.
We recommend using a hardwood decking treatment to protect the rich brown colouring of your deck but it you want to display it au natural, it will gradually take on a gorgeous silver-grey hue as it ages.
Mostly C
Softwood Decking
If you answered mostly C, Softwood decking is the best decking for your garden! Softwood decking is lighter in colour than hardwood decking which makes it the perfect foundation for a range of wood stains, varnishes and finishes.
Softwood decking boards are cheaper than other types of decking materials so they're ideal if you're on a tight budget but still want to make the most of your outdoors space.
Now that you know the best type of decking for your garden, what's stopping you from creating the garden of your dreams? Browse eDecks' fantastic range of composite, hardwood and softwood decking boards and tiles to enjoy a high quality deck at low discounted prices.