Are your borders begging for a pick-me-up? If your garden is in need of some TLC this summer, adding a stylish garden border edging can quickly transform your garden and give it a well-groomed appearance.
Garden border edging is also perfect for those with busy lifestyles who want to spend less time maintaining their garden; garden edging will prevent grass from invading your borders and reduce the need for edge trimming!
If you're in need of some inspiration, try one of our favourite garden border ideas:
Log Border Edgings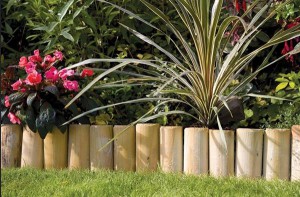 Log edgings are a simple yet, effective way to line your garden borders. Natural logs will blend seamlessly into most gardens decors and showcase your garden plants.
The easiest way to create a log border is to use log roll edging. This ready-made edging is made from round or half round logs which are joined together by flexible wire or material. This makes log roll edging extremely easy to transport and install; it's the perfect choice if you're not a DIY enthusiast!
eDecks' Top Tip: when you're buying log border edging, make sure that the wood is pressure treated so it's resistant to damage from insects and fungus.
Brick Garden Border Edging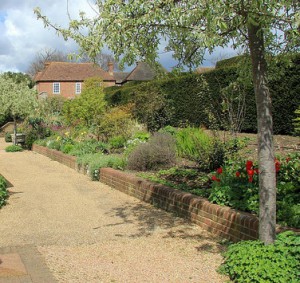 Photo credit: Karen Roe via photopin cc
Classic brick garden border edging is a popular choice amongst gardeners who want low maintenance yet, stylish garden edging. Garden bricks are widely used in gardens as they can withstand anything the unpredictable British climate can throw at them and, they're relatively inexpensive. When you are laying the bricks, push them together as close as possible to prevent turf from growing between the gaps.
Looking for brick garden border ideas? Why not use decorative bricks to create a stand-out garden feature or, try old style bricks to enhance the appearance of a rustic cottage garden.
Rock Border Edging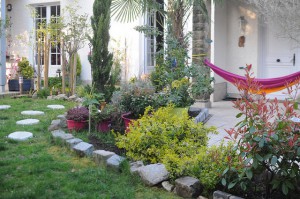 Photo credit: simon_music via photopin cc
Rock border edging is perfect for creating an informal relaxed garden edging. Mix and match different shapes and colours to give your garden border a relaxed appearance.
Although a rock border is extremely easy to create, it requires more maintenance than you might expect. Once the rocks are in place, watch out for lawn or weeds growing in-between the gaps which could spoil the look of your well-manicured lawn.
Find a fantastic range of high quality garden border edging supplies at eDecks today.