Is your team still in the World Cup or do you want to show-off your BBQ skills?  Whatever your reason for hosting a garden party, it's a great opportunity to get your family and friends together to enjoy the summer sunshine. If you want to throw a garden party that has the wow factor, simply add a few accessories to your deck to create an outdoors space that your guests will love.
Add Stylish Outdoor Furniture
Outdoor furniture is perfect for creating a central hub where your guests can relax and socialise. Whether you are hosting a BBQ or simply inviting friends round of a few drinks, outdoors seating is a must have for any garden party. Elderly guests who get tired easily will also really appreciate having the option to sit down later in the day.
When you're shopping for outdoors furniture, look out for garden furniture sets which are usually cheaper than buying tables and chairs separately. This year we're planning on giving our deck a designer edge by adding Rattan outdoor furniture.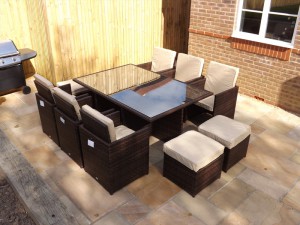 Light Up Your Party With Deck Lighting
The party doesn't need to stop when the sun goes down. Outdoors lighting will allow your garden party to run seamlessly into the evening. It you want to go all out, invest in decking lights which can be used to illuminate your garden all year round. If you have raised decking, adding deck lighting to your stairs will also improve the safety of your garden.
If you want to create a relaxed atmosphere try stringing fairy lights along your decking handrails or hang paper lanterns from trees.
Add Fun Finishing Touches
Brighten up your deck by adding fun decorations! We love using colourful bunting to quickly liven up our decking. Why not have a go at making your own?  For the perfect homemade bunting cut colourful fabric into triangles and pin the flags in position along a length of bias binding tape. To secure, simply sew the flags using a straight stich et voilà!
Decking rope is the perfect way to give your deck a makeover for the summer! If you are adding rope to existing decking, we recommend using light coloured rope which will compliment most types of wood decking.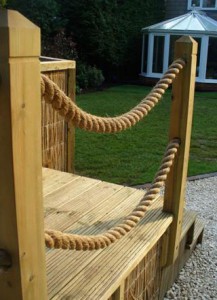 Find all the decking accessories you need to throw the perfect garden party at eDecks. Shop our fantastic range of discount garden accessories today.