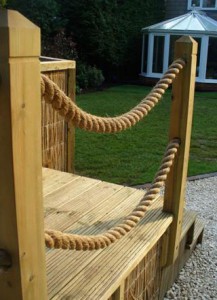 During the summer your garden decking is the perfect place to host lively BBQs or relaxed garden parties. However, while you're enjoying the warm weather, the sun's UV rays could be damaging your decking boards. Don't leave your decking exposed to the elements! Setting aside an afternoon to clean and protect your deck will extend the lifespan of your decking boards and instantly refresh your garden for the summer.
Cleaning your decking might not be the most exciting thing on your to-do list this summer but with our quick guide on the best way to clean decking, you'll be able to get the job done in no time!
What You'll Need
Clean Decking Step 1: De-clutter
Start by removing any garden furniture or potted plants from your decking. You want your deck to be clear from any clutter or obstructions that could prevent you from giving your deck a thorough clean.
If you have climbing plants that use your decking rail as a climbing frame, protect them by covering the vines with a light polythene covering.
Cleaning Decking Step 2: Remove Debris
Now that you have cleared your deck of any clutter, it's time to remove any debris that's gathered other the summer months. Lift any large items of debris by hand and use the broom to sweep-up leaves, twigs, etc. into the rubbish bags.
Cleaning Decking Step 3: Apply Deck Cleaner
There are two ways to apply decking cleaner; you can either apply it by hand or using a pressure washer. Doing it by hand will be cheaper if you don't already own a pressure washer but, it requires a bit more time and effort. Remember to give your decking handrails and stairs a thorough clean too!
If you're washing the deck by hand apply the solution directly onto your broom and use it to sweep the deck clean. It's important to reach all of the corners with your broom in order to get rid of any mould could be lurking from the wet winter months. Pay extra attention to stains, algae and mildew which has accumulated on your deck but, be careful not to scrub too hard in case the wood splinters or cracks.
If you have a pressure washer handy, simply add the cleaning solution to the tank and spray directly onto the wood. Make sure that you use the correct settings to avoid putting unnecessary pressure on the wood.
After you've applied the decking cleaner, use a garden hose with a spray gun nozzle to rinse your deck.
Cleaning Decking Step 4: Preserve Your Deck
Investing in a good wood preserver is the perfect way to give your deck a polished appearance and protect it against attacks from wood-rotting fungi. The type of decking preserver you use depends on the type of wood your patio is made from. Our top tip is to use a waterproof preserver for year round protection from the unpredictable British climate!
Find a fantastic range of decking stains and preservers at eDecks. Visit the site today for high quality gardening supplies at great discounted prices.